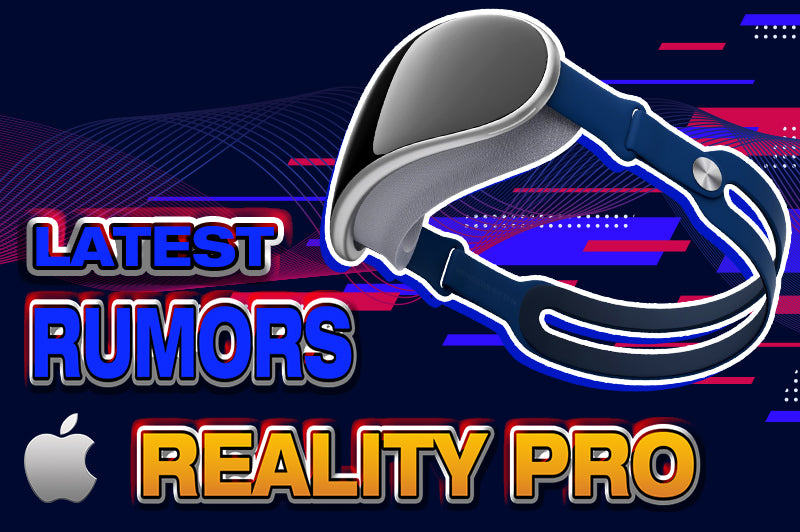 Apple Reality Pro: Latest Rumors
| Tony Mowbray
Tech giant Apple is set to make waves in the mixed reality space soon with its Reality Pro headset expected to be unveiled during the Worldwide Developers Conference (WWDC) in June this year. 
The Reality Pro is pegged to be an ultra-light mixed-reality device weighing around 200-300 grams that will feature an Apple watch-style crown enabling users to switch between AR and VR modes. This is in contrast to the Quest 2 which has adopted a more crude approach to changing modes by slapping the side of the headset twice in quick succession. 
Display
It is said to have pancake lenses which seems to be a growing trend among the latest VR headsets. Pancake lenses have superseded Fresnel lenses due to being less prone to glare, having a bigger viewing 'sweet spot', and allowing for a slimmer headset design. The lenses are also thought to auto-adjust to the user's Inter-Pupillary Distance (IPD) via the eye-tracking cameras.  
The dual displays are said to be made up of micro-OLEDs that deliver around 4,000 x 4,000 resolution per eye which would provide an incredibly sharp and detailed image. To put that into perspective, a budget headset like the Meta Quest 2 offers a resolution of 1832 x 1920 per eye whilst the more expensive PS VR2 display is a slightly higher 2,000 x 2,040 per eye. 
Moreover, the micro-OLEDs should deliver the high contrast blacks and vibrant display of a typical OLED display but with less screen-door effect due to being able to pack pixels more closely together. The downside to micro-OLED is that displays using this tech can be relatively expensive to produce.
Continuing our discussion of the visuals we hear that the Reality Pro will have a horizontal Field of View (FoV) of around 120 degrees. If true, this puts it on par with the Valve Index and would exceed the 106-degree FoV of Meta's premium standalone headset, the Meta Quest Pro.  
Hardware
Looking under the hood, the Reality Pro is purported to be powered by 16GB of RAM and an M2-like chip, similar to the one used in Macbook Air or high-end iPad Pros. It is also said to house a separate chip that processes the data incoming from the onboard cameras and sensors - freeing up the M2 chip to deal with apps and games.
When it comes to sensors, the Reality Pro is rumored to feature a whopping twelve onboard cameras and LiDAR. LiDAR is a sensor that can be found on some high-end Apple devices like the iPad Pro and is used to measure the external environment to allow for more precise object placement in AR. 
Battery
Interestingly, this is all thought to be powered by an external battery - possibly worn around the waist. Separating the battery from the headset makes sense given the focus on an ultra-slim design and the extra bulk and weight a battery would add if it were incorporated into the headset itself. 
According to Bloomberg's Mark Gurman, this battery will be about six inches tall and over half an inch thick, providing around 2 hours of battery life. This would be comparable to other popular standalone headsets like the Meta Quest 2 and Pico 4 which last around 2-3 hours on a full charge. 
Software
As for software, whilst the headset won't require an iPhone to setup or use, it is reported to run the entire iOS iPhone app library via placeable 2D windows. It is also thought to let users input text through air-typing - something which has been claimed to be a bit difficult to do, meaning users may opt for pairing the headset with an iPhone or keyboard for the best typing experience.
Pricing 
All this cutting-edge tech packed into a slim, light headset will likely come at a cost. It's expected to be priced at around $2,000 - $3,000, but if that sounds too rich for your taste, Apple analyst Mng-Chi Kuo has claimed there will be a low-end version of the headset available by 2025. This low-end version will presumably be cheaper - although the possibility of two versions is highly speculative.
That's some of the main rumors and speculation currently forming around Apple's upcoming headset for now. What features are you hoping will come with the Reality Pro? Let us know in the comments below!
As a company dedicated to providing innovative and original content, we pride ourselves in also working with influencers that amplify this dedication. Therefore we are honored to collaborate with Tony from VR Reviews helping us to share the latest virtual reality news on our website, please click the image below to find out more.