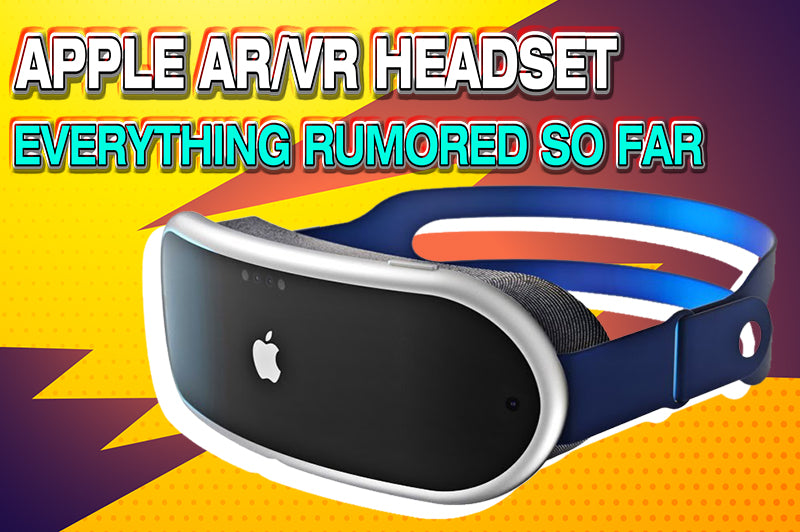 Apple's AR/VR headset: Everything Rumored So Far
| Tony Mowbray
The tech giant Apple is reported to be working on two major Virtual Reality and Augmented Reality (VR/AR) projects. The devices in question are a VR mixed reality headset, which we are likely to see available for purchase in 2023, followed by the release of a pair of sleek AR glasses. In this article, we will be focusing on the rumors surrounding Apple's upcoming VR headset. 
Design
Apple's headset is reported to support both AR and VR technology. It will look similar to a pair of stylish ski goggles as you can see from the rendered images and will be made from a combination of mesh fabric, aluminum and glass, giving the device a premium look and feel. 
Image credit: Ian Zelbo
The headset is rumored to be slimmer and much lighter than Meta's latest standalone headset, the Meta Quest Pro, which weighs in at 722 grams. According to Apple analyst Ming-Chi Kuo, the Apple headset prototypes weigh around 200-300 grams, less than half that of its Meta competitor.
The design is also thought to include interchangeable head straps, similar to what we see with the Meta Quest 2. These headstraps may include different features like speakers for spatial audio or additional battery life. 
Displays
It is rumored that Apple's headset will feature 2-3 displays, one for each eye and a possible third display at the side to cover peripheral vision. Each display will be a high-resolution 4K panel made up of micro OLEDs. Take a look at the table below to find out how micro OLED technology stacks up against LCD displays (e.g. Meta Quest 2) or regular OLED displays (e.g. Valve Index).
As you can see from the table, micro OLED displays have the advantage over both LCD and OLED displays in almost every category except for cost, which is why we haven't seen the technology widely adopted in VR headsets just yet. Finally, there will also be a display made from regular OLEDs included on the outside-front of the headset which shows the wearer's face when in use.
As for the lenses, the Apple headset will feature pancake lenses instead of the more widely used Fresnel lenses. Pancake lenses are more costly than Fresnel lenses, but allow for a slimmer headset design with less light reflection and God rays when compared to Fresnel lens technology. 
Cameras
Apple's upcoming headset is thought to feature a total of fourteen cameras, which is four cameras more than the Meta Quest Pro. There will be internal cameras equipped with the ability to track the face, eye movements and even scan your iris. The face tracking cameras will be able to translate user facial expressions to virtual avatars, whilst the iris scanning technology could allow users to lock their profile or pay for items with their unique iris profile in a similar way to Face ID. 
The headset will also include external cameras for inside-out tracking. These cameras will reportedly be able to map your external environment for mixed reality purposes and accurately track body movements, including hand motion. One feature unique to this headset will be the two downward-facing cameras that are devoted to capturing the user's legs for realistic full-body avatar representation. 
Controls
Hand gestures will be trackable using sensing modules and a device that looks similar to an Apple Watch. According to Apple patents, the headset will use a smartwatch style band that uses electrodes to track gestures made through skin-to-skin contact. 
For example, the wristband will be able to detect when I run my index finger across the palm of my opposite hand, which could be used to control something like a cursor from within the headset. Voice commands through Siri are also supported and will work like other Apple devices.
Technical specs
The headset is thought to be standalone and will not require a connection to an external device like an iPhone or Mac to function. It will come bundled with its own VR dedicated operating system called "Reality OS" and contain two separate M2 processors. These processors are the same kind used by Apple in their Macs and iPads. 
One processor will be the central high-end processor, dedicated to running the operating system, games and apps; whilst the other processor is lower-end and manages the input from the device's sensors. 
Being a standalone device, there may be some concerns about battery life when you consider the multiple screens, cameras and processors that will be running simultaneously. Some rumors have indicated that the headset can only be used in short bursts which suggest the battery life is rather short. As a battery saving measure, the outward facing display will have a low refresh rate and the eye tracking feature will be used to reduce graphical fidelity of visuals in the user's periphery. 
That just about wraps it up for what's rumored to be included in Apple's upcoming mixed reality VR/AR headset. The only thing yet to cover is cost. 
If the above leaks and rumors are to be believed, it seems that Apple has spared no expense when it comes to their debut into the VR space. Whilst we don't have anything firm on price just yet, reports suggest we could be looking at a price tag of around $3000 USD, which is certainly believable given the technology featured in this cutting-edge device. 
As a company dedicated to providing innovative and original content, we pride ourselves in also working with influencers that amplify this dedication. Therefore we are honored to collaborate with Tony from VR Reviews helping us to share the latest virtual reality news on our website, please click the image below to find out more.