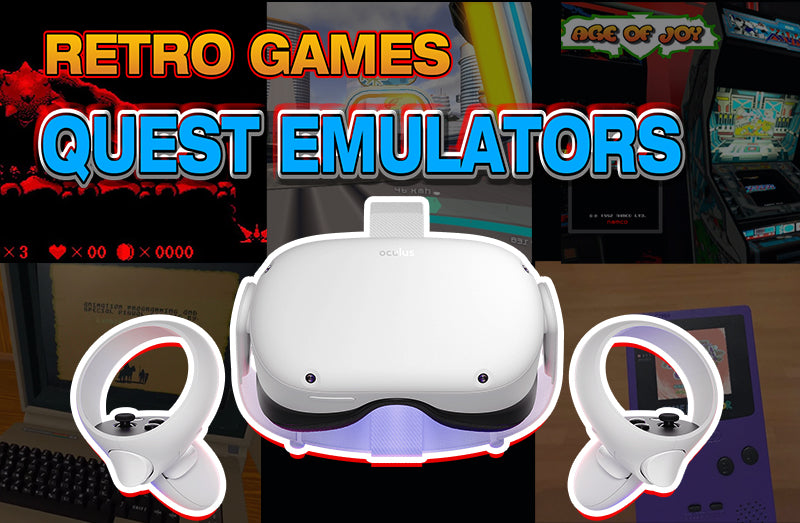 Best Emulators For Playing Retro Games On Your Meta Quest
| Tony Mowbray
Turn your Meta Quest into a portable retro games machine and play classic titles using these authentic SideQuest emulators. Although all the emulators listed below are free you will need to supply the games (ROMs) to use them. Where to find ROMs, how to get them working, and the legalities of owning them are beyond the scope of this guide. If you do decide to download ROMs however, make sure to do your homework beforehand as malicious ROM sites exist that will package all kinds of nasty surprises along with your download.
The Virtual Boy was Nintendo's first and only attempt at a tabletop VR headset. Launched way back in 1995, Virtual Boy used parallax effects to give its games the illusion of depth. However, the technological limitations of the time meant that it suffered from poor optics that caused eyestrain, headaches, and motion sickness. 
With Virtual Boy Go you can play Virtual Boy games on the Quest as they were meant to be played without any of the vomit-inducing technical issues that plagued the original headset. This emulator lets you use the Quest controllers to direct the action and it also allows you to change the color palette from the original garish black and red to something a bit easier on the eyes. 
Whilst the Virtual boy has a small library of 22 games it does contain some real gems like Jack Bros. and Virtual Boy Wario Land that are well worth your time. 
Hang out in your very own virtual arcade and while away your day sinking quarters into classic games machines like Pac-Man and Galaga. Just load up your ROMs and cabinet assets (downloaded separately) and the app will deploy your cabinets automatically throughout the gallery. 
AGE of Joy tries to deliver an authentic arcade experience complete with NPCs that will wander around and play the machines. The pre-made virtual cabinets have realistic designs and artwork that closely match the originals. There is also the option of making your own cabinet if you have the time and inclination. 
AGE of Joy can take a little time to setup but once done it does a great job of transporting you back to the golden age of arcade gaming.
As you might have guessed by the title, this app emulates the Sony PSP handheld on your Quest. The best thing about this emulator is it gives you the option of playing in flatscreen mode or in full 360 VR to experience the PSP like never before. 
PPSSPP VR comes with a lot of emulation options to boost the visuals, improve performance, and save game states. There's also the option of mapping the PSP controls to your Quest motion controller but I found the best way to play was using a Bluetooth gamepad.
The Commodore 64 was a popular home computer from the 80s that holds a special place in the nostalgia-filled memories of many gamers. This emulator doesn't just emulate C64 games but gives you the full retro experience complete with a CRT monitor, floppy disc games, and an 80s-themed room to play them in.
Game ROMs appear as physical floppy disks in-game that you need to insert into the drive and load using the correct text commands like you would do with an actual Commodore. The C64 model even has a fully functional keyboard that lets you program in BASIC. 
There is a bit of a learning curve with this one, especially if you are new to the C64 but Real Commodore 64 is probably the most authentic standalone emulation experience you can have on your Quest. 
The Game Boy is one of the best-selling handheld consoles ever made and now thanks to GameBov you can play the extensive library of Game Boy and Game Boy Color titles on your Quest. 
GameBov lets you play your Game Boy ROMs on an authentic-looking model of the Game Boy Color. You can also increase the size of the Game Boy Color model by up to two and a half times if you find the screen size to be a bit too small.   
One of the best things about this emulator is that the ROMs don't take up too much of your Quest storage so you can pack quite a few on there. Despite being a good emulation experience one of the biggest drawbacks of GameBov is the lack of ability to save game states.
As a company dedicated to providing innovative and original content, we pride ourselves in also working with influencers that amplify this dedication. Therefore we are honored to collaborate with Tony from VR Reviews helping us to share the latest virtual reality news on our website, please click the image below to find out more.