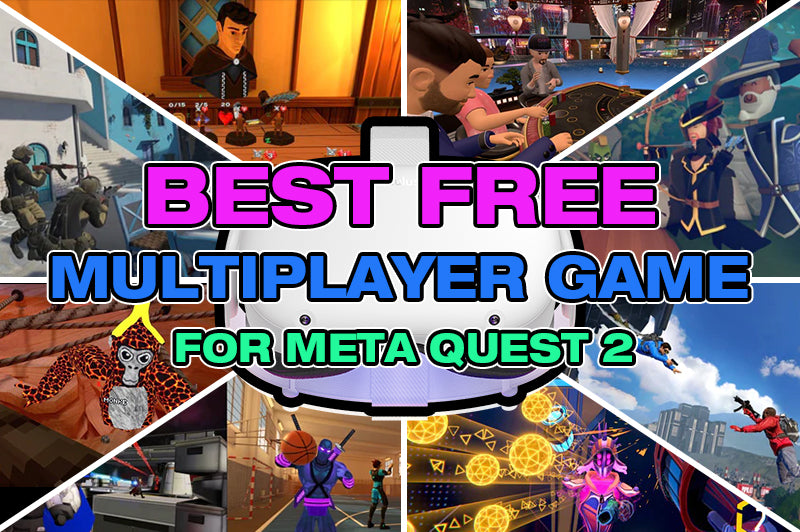 Best Free Multiplayer Games For Meta Quest 2
| Tony Mowbray
Multiplayer VR games offer something unique that goes beyond a solo experience. Jumping into a highly immersive virtual world with someone else can make VR gaming much more enjoyable - especially when the game is free to play. In this article, we list some of the best free multiplayer VR games you can play right now for your Meta Quest 2.    
Genre: Action, Shooting, Sports
This fast-paced PvP arena shooter pits you one on one against a human or AI opponent. Players use the weapons and shields that spawn nearby to duke it out whilst standing on raised platforms. Blaston is surprisingly strategic in its gameplay as players need to consider how to make the best use of the limited ammunition and wait for the best moment to strike. 
Successfully bodging and blocking incoming fire is also vital if you hope to be victorious in this addictive, adrenaline-pumping competitive shooter.
Genre: Action, Shooting
Pavlov is an online shooter that you'll find included on many top-ten lists and for good reason. This intense multiplayer shooter includes over 65 weapons with realistic VR mechanics and a variety of 5 Vs 5 game modes - such as deathmatch, team deathmatch, and prop hunt. There are also coop modes that include a zombie wave shooter, in addition to solo practice maps and gun ranges.  
Because of its popularity, there is also a sizeable player base so you will rarely find yourself stuck trying to find someone to play with online.
Genre: Action, Arcade, Shooting
Meta Quest's number one battle royale game has some in-app purchases to unlock rewards but no microtransactions are necessary to play the game. Population One's gameplay is similar to other battle royale games - you get dropped into a map with your team and battle it out until there's one person left standing. As time goes on, the combat zone slowly shrinks, damaging anyone who is outside its radius and forcing players to fight on an increasingly smaller map.
Where Population One might differ from other games of this type is the freedom to move around the map in whatever way you want. It's truly exhilarating being able to climb anything or glide anywhere to get around and try to outwit your opponent. 
The smooth, fast-paced gameplay and healthy selection of game modes, including a new single-player mode, make this freebie well worth your time.
Genre: Strategy, Social, Card Game
Battle players online using your own custom deck of spells and monsters in this competitive online card game. There are over 160 cards to collect and 4 different warring factions to choose from, each with its unique abilities. 
Collecting cards and building your dream deck is a lot of fun. Battling it out with other players is also very rewarding, trying to play the right cards at the right time to claim victory keeps things interesting. Cards & Tankards allows you to hang out with other players in the virtual tavern or chat with your opponent in the midst of battle, making it as much a social experience as it is a card game. 
Genre: Arcade, Social, Sports
Rec Room is a multiplayer VR game with a massive online community that's bursting with different game modes and features. Rec Room allows players to choose from a huge selection of fun games to play - from paintball and disc golf to my personal favorite, mini-quests where you team up with three other players to battle through a series of stages coop.
You can even create your own rooms and content or play with other people's creations. Rec Room is an incredibly fun social experience for all ages that has a bit of something for everyone. It can be played across a wide range of flatscreen platforms in addition to VR; including PC, Xbox One, Xbox Series X/S, PlayStation 4 and 5, iOS, and Android devices. The wide selection of cross-play options means family and friends should be able to get in on the action one way or another.
Genre: Action, Platformer, Casual, Social
At first glance, Gorilla Tag doesn't look like much with its crude visual style but don't let that put you off. The goal is simple, run, jump, and climb around the map with other players in a big game of virtual tag. 
One of the best things about Gorilla Tag is the fun parkour locomotion that works by frantically swinging your arms and hands to launch yourself across the ground. This game will have you laughing out loud and it might surprise you just how fun a simple game of virtual tag can be.   
Genre: Social
This anime-inspired app is much more than just a platform to play games online. It offers up a smorgasbord of social VR experiences and ways to interact with people from across the globe. VRChat is like a virtual sandbox filled with different ways to connect with others - whether it's through games like Capture the Flag or Battle Discs, attending community events, creating art, or building your own virtual world to share.
What makes VRChat so appealing is the wide range of activities you can experience with others and the almost limitless ways to express yourself through highly customizable avatars, hand gestures, and emojis.   
Genre: Casino & Poker, Casual, Social, Strategy
A casual social strategy game that, as the name suggests, allows you to play classic card games like poker and blackjack with others online. There's no real money involved so you don't have to worry about credit card details or your bank account getting wiped out.
Everything from the detailed environments to the realistic physics makes this game perfect for anyone looking for an authentic poker, blackjack, roulette, slots, or craps experience.  
As a company dedicated to providing innovative and original content, we pride ourselves in also working with influencers that amplify this dedication. Therefore we are honored to collaborate with Tony from VR Reviews helping us to share the latest virtual reality news on our website, please click the image below to find out more.