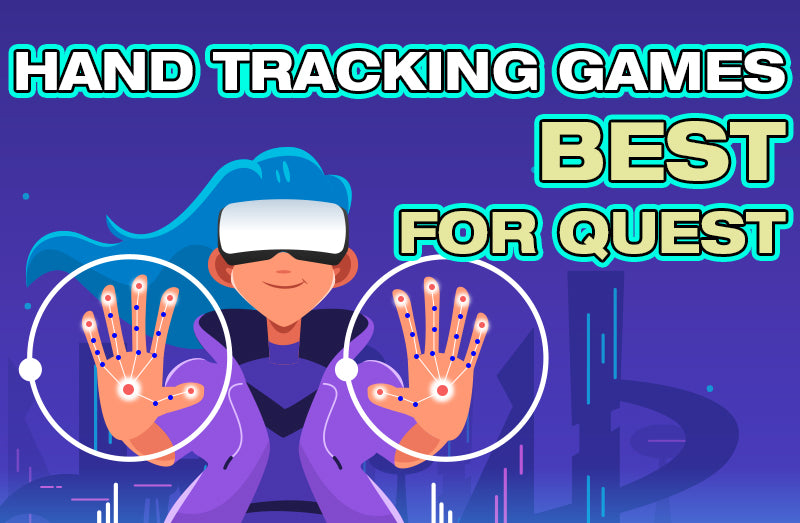 Best Hand Tracking Games For Meta Quest
| Tony Mowbray
Hand-tracking is arguably one of the most exciting experimental features that the Meta Quest has on offer. This technology allows you to use the external cameras of the quest to track your hands and individual fingers so you can use them to navigate menus and even play games.
Hand-tracking needs a well-lit environment to work well and still has some way to go. It can be laggy and sometimes doesn't track certain movements as it should. While it might not be perfect, I still find hand-tracking to be a mind-blowing experience that every quest owner needs to have at some point.
Here is my list of the top ten hand-tacking experiences I have tried on the Meta Quest platform to date.
Price: free
We begin with something completely free and perfect for newcomers to the Quest and hand tracking. There are two versions of First Steps available to download, one with hand tracking and one without.
First Steps isn't the best hand-tracking experience I've had but it provides a good introductory sandbox experience that will get you acquainted with basic hand movements such as
pulling, grabbing, and pushing, as well as some more advanced fun stuff like firing guns.
Price: free
Tiny Castles gives you a fuller gameplay experience than First Steps. However, it's still very short and will only last you about an hour or so. You play as a God and the objective is simple - free your believers from the evil God and his minions. Do this by solving simple puzzles and obliterating enemies with your Godlike powers.
The action-puzzle gameplay is a lot of fun but not very challenging which is fine with me as it still provides an impressive smorgasbord of hand-tracking experiences, from turning cranks to shooting lightning from the tips of your fingers.
Price: free
Unlike the previous two experiences, Elixir can be downloaded from the official Meta Quest store. As a sorceress apprentice, you get to experiment with potions and maintain experimental contraptions within your very own alchemy lab.
It might only take 10 to 15 minutes to complete so the experience is like a short tech demo but you'll get to have hand-tracking interactions that the previous two games don't offer. My personal favorite is the trippy feeling of changing your hands into wolverine claws or floppy octopus tentacles. 
Price: $9.99
Moving on to the paid experiences and we start with Hand Physics Lab. This is an experimental physics sandbox experience and is similar to the other experiences featured on the list, but with a lot more things to do. 
Use toy guns to draw, finger paint, mess around with tools like hammers and axes, play with chemicals, and even make a clone of yourself. It's seriously fun and a great way to experience the unique ways hand tracking can be used.
Price: $4.99
The Line is a short interactive love story that will last you about 20 minutes to complete. I chose this one partly because the story is brilliant, it's won various awards and has a high rating on the official store. 
The hand tracking also works really well here. It's used for poking, grabbing, and placing things to progress the story along. Whilst it doesn't do anything particularly mind-blowing with the hand tracking feature, it is implemented well and does add fantastically to the immersion of this great interactive story.
Price: $24.99
We've all pretended to rock out on an imaginary air guitar at some point in our lives. Unplugged brings you the next step in the evolution of the air guitar by placing a virtual one in your hands and allowing you to strum along without the need for controllers.
Hand-tracking goes together with Unplugged like fish goes with chips. Rock along to an excellent soundtrack in the spirit of games like Guitar Hero while using nothing more than your headset and bare hands. 
Price: $9.99
Cubism is a great choice if you are in the market for something a bit more cerebral. The concept is simple - arrange the colored blocks to fit inside the outlined shapes. However, the puzzles can get very challenging even for the most spatially gifted. 
You can manipulate the blocks using your hands which works perfectly in a game like this. Hand-tracking can sometimes be temperamental but because Cubism allows you to take your time, it never becomes a serious problem.  
Price: $19.99
Rogue Ascent is a procedurally generated roguelike sci-fi shooter that can be controlled solely through the Meta Quest hand-tracking feature. Move through each stage by holding your palm out to specific points on the floor to transport to that location. 
Bring your fists up to your face to spawn a shield and block incoming fire then blast away your foes with weapons that appear whenever you make a gun shape with your hand. The hand-tracking works surprisingly well in this fast-paced action game and while there's a little bit of a learning curve it feels very intuitive once you get used to it. 
Price: $19.99
If you're looking for a more action-orientated hand-tracking experience then our next title Waltz Of The Wizard might just give you what you are after. Create potions, solve riddles, and feel what it's like to have magical powers as you battle guardians in an ancient maze
There is a lot to explore and all sorts of fun little mini-games to play. The hand-tracking experience takes a bit of practice, particularly with some of the finger movements but it does
offer a great experience for the price.
Price: $29.99
Vacation simulator is a fantastic non-linear experience that will give you hours of gameplay from the main story and tons of extras if you're a completionist. There are hours of exploring to be had across different environments like snowy mountains, forests, and beaches.
The robots scattered around the map give you main quests and side quests to complete but it's still a very free-roaming experience in that it pretty much leaves you to your own devices. The game is great for young and old alike and offers an immersive world that's only enhanced by the use of hand-tracking.
As a company dedicated to providing innovative and original content, we pride ourselves in also working with influencers that amplify this dedication. Therefore we are honored to collaborate with Tony from VR Reviews helping us to share the latest virtual reality news on our website, please click the image below to find out more.