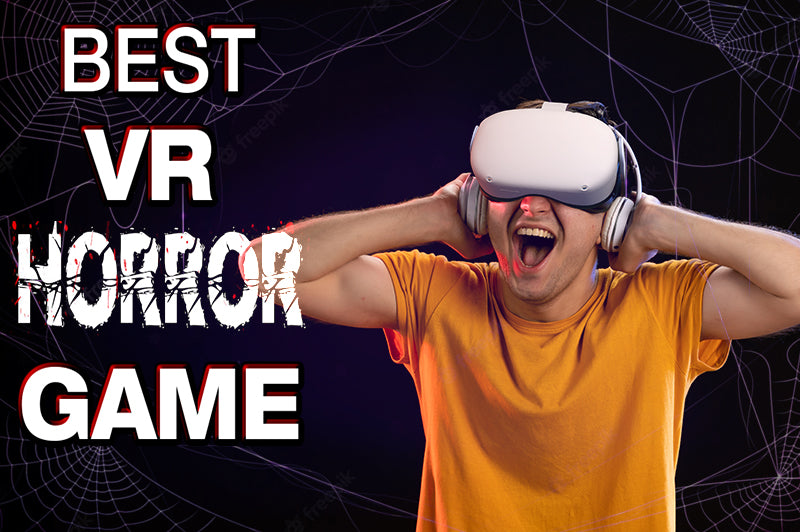 Best Horror VR Games
| Tony Mowbray
Horror games are some of the best games to play in Virtual Reality (VR) because the immersion can take the scare factor and crank it up to 100. Here is our selection of some of the best horror games available to play in VR right now.
Platforms: Quest, PC VR
You play a cosmonaut trapped in a dying spaceship filled to the brim with bloodthirsty creatures from your nightmares. Your goal is to try to survive long enough to repair the ship and return safely to earth. Cosmodread is a survival horror game that masterfully pulls off the feeling of being trapped, vulnerable and fighting for your life.
The oppressive atmosphere, the need to scavenge for items to keep yourself alive and the use of cunning to outwit the inhabiting monsters, all come together to give an outstanding survival horror experience. The ship layout is also procedurally generated meaning it changes each time you play and there are plenty of modifiers that give Cosmodread a lot of potential replay value.
Platforms: Quest, PSVR, PC VR
Five Nights at Freddy's brings your most frightening childhood nightmares to life. It's your first day on the job as night watchman where you get paid to sit in a tiny office and use security cameras to keep an eye on the animatronic robots inhabiting the place. Sounds easy, right? Only, these are not your regular animatronics, they please the crowds during the day but become free-roaming bloodthirsty psychopaths at night.
What makes Five Nights at Freddy's so psychologically terrifying (apart from the killer robots) is the feeling of sheer helplessness. You're trapped in a room with no weapons or even a place to hide, it's just you with a security system, a few doors and some lights to protect you from the animatronic monstornisities seeking you out.   
Platforms: Quest
Players take on the role of special agent Leon Kennedy who is sent to a strange rural village to investigate the kidnapping of the president's daughter, Ashley. It soon becomes apparent that the village inhabitants have become infected with mind controlling parasites and are under the influence of a mysterious cult who are also responsible for abducting Ashley.
Resident Evil 4 (RE4) is a highly rated title that originally came out in January of 2005 but has been recently remade for VR. RE4 takes a departure from prior games in the resident evil series by being much more action focused with more enemies, weapons and ammo than previous titles. The VR remake takes this modern classic and makes it even better with improved inventory, combat and puzzle mechanics.     
Platforms: PSVR, PC VR (via a mod)
We have another resident evil title on the list, but this one is for PSVR and PC VR users. RE7 puts you in the shoes of Ethan Winters who is searching for his missing wife but ends up getting captured and tortured by a killer cannibal family known as the Bakers. The game takes place in and around their large home as you search for a way to escape their clutches.
Slowly making your way through an old, creaky house being stalked by its horrifying inhabitants makes for an exceptionally creepy and tense experience. The feeling of horror is further enhanced by the engaging storyline and exceptional visuals.
Platforms: Quest, PSVR, PC VR
A zombie plague has struck New Orleans leaving behind a post-apocalyptic wasteland of ruination, warring factions and, you guessed it, flesh eating zombies. The Walking Dead is a survival horror game with a healthy dose of action and RPG elements mixed in. 
There's a lot of fun to be had exploring the remnants of suburbia, completing quests and scrounging around for things to use against the shambling zombies roaming the streets. Combat is also an immensely satisfying experience with top notch physics allowing you to dispatch the undead cretins in a number of sadistically satisfying ways.    
Platforms: PC VR
Who you gonna call? Maybe not the Ghostbusters, but definitely three friends to join you in this four player co-op ghostly horror adventure. You and your teammates are paranormal detectives tasked with investigating haunted locations and determining the threat they pose. Enter the haunted locale, set up your specialised equipment to gather data and, with a little luck, leave with your life.
The beauty of Phasmophobia is in its subtlety. You might catch a glimpse of a shadow out of the corner of your eye or hear a breath in your ear, but are not too sure if it's only your imagination or something more. The ghosts will play with your mind and having three other players to share in the experience just adds to the adject terror as their fear feeds into your own.   
As a company dedicated to providing innovative and original content, we pride ourselves in also working with influencers that amplify this dedication. Therefore we are honored to collaborate with Tony from VR Reviews helping us to share the latest virtual reality news on our website, please click the image below to find out more.