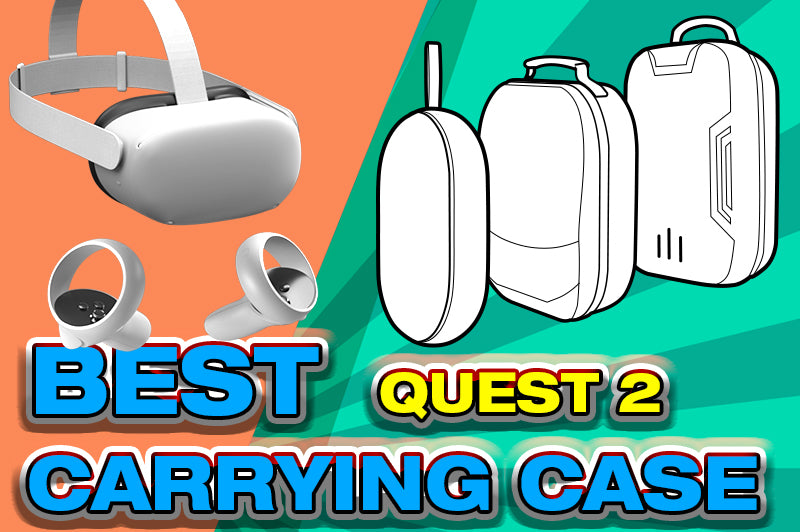 Best Meta Quest 2 Carrying Case
| Tony Mowbray
A carry case is a good way to protect your Meta Quest 2 whether it's being stored at home or taken on a trip. The ideal case should be able to store everything you need securely, with some cases able to do the job better than others. We've tested a range of different cases to bring you this list of three great choices to suit your storage needs.
Price: $59.99
The Official Quest 2 carrying case is easily one of the best-looking cases money can buy. The rounded capsule design has a grey-felt finish that looks sleek and feels premium. Even the zip is hidden under a fold in the lid so as not to spoil the overall aesthetic. The inside is a similar story, lined with plush material and divided into compartments separated by solid rubber walls. 
The official case is not just a pretty face though, as it stores the Quest 2 quite well. There's enough room for a Quest 2 with an elite battery strap, the controllers, the charging plug, and a few other small things. Whilst the case feels soft to the touch, it is durable enough to protect your Quest from impacts as well as being water resistant, and the compact design makes it fairly easy to stow away. 
There's a loop fixed at the top for easy carrying, which works but can become uncomfortable when carrying it for extended periods. It is not the most spacious design either and may not fit all of the accessories and modifications you have. For example, I was unable to fit my Quest 2 with a BOBOVR M2 halo strap nor the controllers fitted with AUBIKA Rechargeable Grip Covers.
Therefore, it seems the Official Quest 2 carrying case suffers a bit from form over function. However, if you are not bothered about it being a bit on the small side, then you're sure to love this stylish case.  
Price: $29.99
AUBIKA's carry case takes the spot for the best all-around case, providing a roomy interior with good protection and a sleek look. The hard case design is sturdy enough to withstand knocks and bumps, with the top made from water and scratch-resistant PU material whilst the bottom has a textured fabric feel. 
There's a convenient padded carrying handle securely fixed to the top that feels nice to hold. Inside is a mesh storage compartment lining the lid with a removable mesh bag in the main body of the case. The case even comes complete with a lens protector to shield the headset lenses from any bits and pieces that might move around inside when traveling. 
The AUBIKA case offers plenty of storage space and what makes it so spacious compared to others of a similar size is the lack of compartments inside. Other cases like the BOBO VR C2 Case, VR Cover Carrying Case, or the Official Carrying Case we just discussed feature molded compartments designed to fit the Quest 2 snugly. This works fine with the stock controllers and headset but can create problems if using additional accessories and modifications. 
The design of the AUBIKA Prime Carry Case provides enough space to put accessories, controllers, and the headset with a range of different head straps attached. I was able to put my Quest 2 in the case whilst it was fitted with the Official Elite Strap, BOBOVR M2 strap, the AUBIKA Excellence Head Strap With Battery, and the KIWI Design Battery Head Strap. Moreover, the case is able to comfortably store both the Quest Pro and Pico 4 too. This makes it a highly versatile all-in-one solution for owners of multiple headsets.   
I then attempted to pack the Quest 2 inside the case with all of my accessories which included the AUBIKA battery strap, VR Cover Facial Interface, and AUBIKA Rechargeable Grip Covers. It was a snug fit but with some careful arrangement, I was able to get everything I needed inside without any issues. 
Just be aware that whilst the case should accommodate most head straps, it may not work with those that have built-in headphones. During my testing, I found the KIWI Design On-Ear Audio Head Strap and the Vive Deluxe Audio Strap were just a bit too wide to fit. So if using a particularly bulky strap or if you have a lot of accessories to store, you might want to consider our next case.
Price: $39.99
If you have a head strap with onboard headphones you might have a hard time finding a Quest 2 carry case that fits. That's why our next case isn't designed for Quest 2 at all. The Zaracle Hard Travelling Case is made for the HTC Vive Cosmos but fits the Quest 2 really well when you have one of the bulkier headphone straps attached.
The Zaracle has a hard case design just like the other carrying cases featured here and sports a durable, water-resistant rubber-like shell. There's also a carrying handle at the top but unlike the other cases, this one also comes with a shoulder strap too which is handy to have for a bulkier case like this one.  
The inside of the lid is lined with four mesh pockets that offer plenty of room to store your cables, batteries, and other accessories. The case can comfortably accommodate pretty much any head strap, including the Vive Deluxe Audio Strap which is the largest of the lot. 
There are not many drawbacks to this case, only that its spacious design also means it's the biggest and heaviest case on this list. If you won't be needing all of that extra space then it might be better to choose one of the smaller cases on this list.    
As a company dedicated to providing innovative and original content, we pride ourselves in also working with influencers that amplify this dedication. Therefore we are honored to collaborate with Tony from VR Reviews helping us to share the latest virtual reality news on our website, please click the image below to find out more.