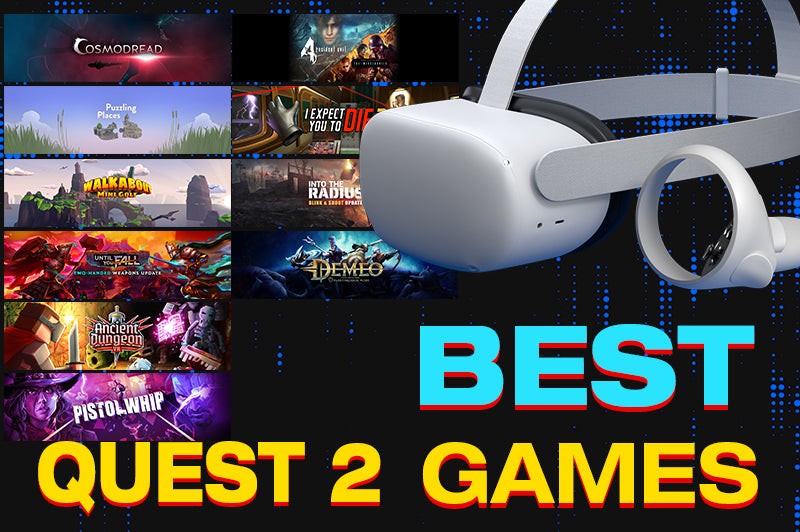 Best Meta Quest 2 Games
| Tony Mowbray
The official Meta Quest store has a wide selection of highly-rated games to choose from but if you're looking for the best of the best, then you've come to the right place. We have 10 of the best Quest and Quest 2 games as of December 2022 to share with you, so let's dive in.    
Music & Rhythm, Shooting
Price: $29.99
The Quest has its fair share of shooters but none have quite the same style as Pistol Whip. 
Choose from five different gun types and mow down gun-wielding baddies to the tune of some amazing soundtracks. Timing your shots to the beat and dodging bullets Matrix-style never gets old. There is also plenty to do with 30 hand-crafted stages as well as modifiers and story-driven campaigns.
Action, Horror
Price: $39.99
Take control of special agent Leon Kennedy who is sent to a remote village filled with hostile mind-controlled cultists on a mission to retrieve the president's daughter. Resident Evil 4 (RE4) received critical acclaim when it was first released as a non-VR game back in 2005 and its highly-rated gameplay has stood the test of time. RE4 VR brings us this modern classic as we've never seen it before, adding full motion control support with improved gameplay mechanics.     
Adventure, RPG (Role Playing Games), Strategy
Price: $29.99
Demeo is an immensely satisfying sword and sorcery tabletop game where up to four players band together to take on dungeons of hideous creatures in their quest for glory. Survival isn't easy so you will have to rely on each other's unique skills if you hope to make it out alive. Demeo successfully recreates all of the social fun of a board game without having to worry about losing the pieces.
Action, RPG (Role Playing Games), Roguelite
Price: $24.99
Be warned, Until You Fall isn't for the faint of heart. Take on stage after stage of progressively difficult enemies using both melee and magic. Until You Fall is a challenge and will be frustrating at times, but the rewarding skill-based gameplay will keep you coming back for more. The fast and furious strategic combat, combined with rogue-lite game mechanics makes for a hugely addictive arcade action experience.  
Adventure, Interactive Story, Puzzle
Price: $24.99
I Expect You To Die 2 is a masterclass on how to deliver a thoroughly immersive, cinematic VR experience. Play as a spy and attempt to foil the evil Zoraxis organization's plans for world domination by puzzling your way through a series of deadly escape room-type situations. The highly interactive environments, humorous storyline, and clever puzzle design make this one of the best VR games currently available for the Quest.   
Simulation, Sports
Price: $14.99
Walkabout Mini Golf features eight thoughtfully designed courses which add up to a massive 144 holes in total. Navigating through each hole is a joy with the realistic club and ball physics in addition to online multiplayer support for up to 8 players that makes it an incredible social experience too. There's also plenty of paid DLC to extend the life of the game, with my favorite being the course based on the 1986 classic film, Labyrinth. 
Action, Horror
Price: $14.99
Making your way through a dark, oppressive spaceship filled with interdimensional horrors is as terrifying as it sounds. Cosmodread is a game all about surviving long enough to repair your damaged ship to make your way back to Earth. The foreboding atmosphere in this game is fantastic and wearing headphones is a must if you want to feel the full terror of every creak, groan and growl in the dying hulk that surrounds you.   
Action, Adventure, Fighting
Price: $19.99
Personally, I am not a huge fan of Ancient Dungeon's voxel-style graphics but please don't let that put you off. This brilliant dungeon-crawling adventure features randomly generated dungeons chock full of loot, traps, enemies, and mini-bosses. Combat is also a blast with responsive physics that allows you to cut through vegetation, smash through walls and stagger enemies.  
Puzzle
Price: $14.99
If you're after something with a slower pace that will give your brain a workout, try Puzzling Places. Complete 3D puzzles of fantastically detailed miniatures that have been re-created from 3D photogrammetry scans of iconic buildings and places. There's also the option of adjusting the difficulty for each puzzle by opting for either 25, 50, 100, 200, or 400 puzzle pieces. 
Action, Horror, Shooting
Price: $29.99
Into The Radius is set in a massive open world populated by mysterious and deadly creatures called entities. Throughout much of the game, you make your way through the blighted landscape completing quests, fending off enemies, and scavenging for items to help you survive. The attention to detail and realism creates a fantastic survival experience where even small things like cleaning your weapons can mean the difference between life and death.
That about wraps it up for this list; were there any games not in this list that you think should have been included? Share your favorite Quest 2 titles with us in the comment section below!
As a company dedicated to providing innovative and original content, we pride ourselves in also working with influencers that amplify this dedication. Therefore we are honored to collaborate with Tony from VR Reviews helping us to share the latest virtual reality news on our website, please click the image below to find out more.