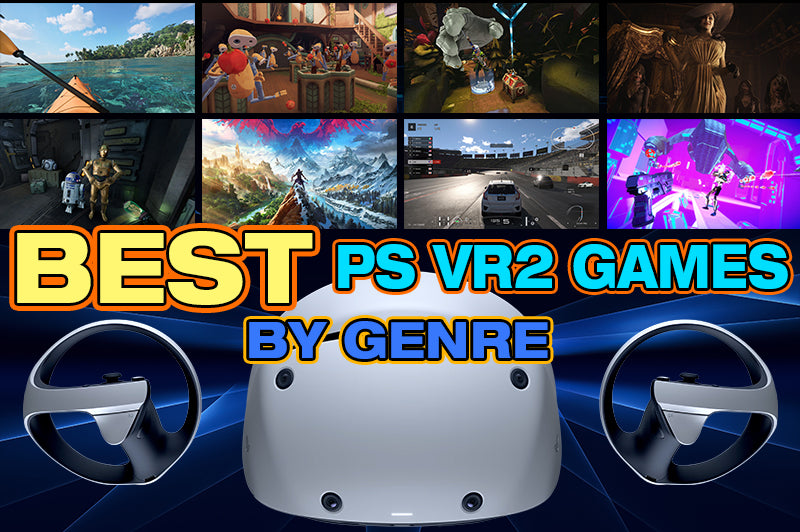 Best PS VR2 Games By Genre
| Tony Mowbray
The Playstation VR2 (PS VR2) launched just recently with over 40 titles to choose from in the official store. Here we list the best PS VR2 games from each genre so if you're looking for the top launch titles for your headset then you've come to the right place - let's dive in.
Horror, Action
Price: $39.99
Resident Evil Village was released as a flat-screen game on the PS5 back in 2021 but the latest free DLC lets you play the entire campaign in virtual reality. The sounds, visuals, and controls have all been overhauled to take advantage of VR, letting players perform actions like reloading weapons and wielding knives using motion controls. 
The adaptive triggers and haptics on the PS VR2 controllers make dispatching enemies with the pump-action shotgun particularly satisfying. This VR update gives you a whole new way to experience this horror classic in all its gruesome detail.
Shooter, Adventure, Action
Price: &49.99
This action-adventure shooter sees you duking it out with space pirates as you travel across the planet of Batuu completing quests. I am not a massive Star Wars fan but this game still made the list given the polished gameplay alongside a thoughtfully crafted storyline and level design. 
The enhanced PS VR2 edition also includes the Last Call DLC which is an essential addition to the base game in my opinion. Combat is high-adrenaline fun - for example, peeking over the top of a rocky outcrop and exchanging blaster fire with a droid draws you into the Star Wars-themed action nicely.  There are also mini-missions that let you play as a Jedi and collectibles to find throughout the galaxy's edge.
Best Strategy Game -
Demeo
RPG (Role Playing Games), Strategy, Adventure
Price: $39.99
Demeo is the multiplayer fantasy tabletop game that successfully recreates the feeling of playing a board game with family and friends but with none of the hassles of setting up or having to get everyone together in one place. 
Pick from one of six character classes and join together to battle through randomly generated dungeons in separate campaigns. Demeo is no cakewalk but it is an incredibly enjoyable and rewarding social experience that makes it easily one of the best PS VR2 strategy games to date.  
Music/Rhythm, Shooter, Action
Price: $29.99
Shoot the bad guys whilst dodging their bullets and other obstacles to the tune of some amazing soundtracks. Pistol Whip features a host of quality content to get stuck into with 30 hand-crafted stages, five weapon types, modifiers, and story-driven campaigns.
Be warned, you won't look cool from the perspective of someone watching from the outside, but when you are playing, this game will make you feel like some kind of John Wick killing machine. It's also a pretty good workout too, and there have been many times when I was enjoying myself so much that I didn't realize how much exercise I was actually doing. 
Arcade, Casual, Simulation
Price: $22.99
Kayak VR Mirage is a visual feast for the eyes that is sure to 'wow' you with its stunning environments. Each of the four environments on offer features different times of day, varying weather conditions, and a selection of wildlife. 
The locations are playable in two different ways - there's a relaxed casual mode that's all about exploration and a more high-octane competitive mode that allows you to race against friends. And if you are looking to take immersion to the next level, there's the option of attaching the controllers to a stick mount to simulate a kayaking paddle.
Action, Adventure
Price: 59.99
This is PSVR2's flagship title designed to really show what the headset can do and it doesn't disappoint. Horizon Call of the Mountain is an action role-playing game set in a world overrun by machines and features an 8-hour-plus campaign with stunning visuals that make the most of the PS5's power. 
It is a climbing game at its core - with some combat and exploration sprinkled in. Whilst the game is a little easy, the landscapes and sheer scale of the environments are really something to behold. It also makes good use of the PSVR2 adaptive triggers as well as eye tracking and haptics.
Driving, Racing
Price: $69.99
The latest virtual reality update for Gran Turismo 7 makes this legendary racer feel like an entirely different experience. The interior of each car is unique and the lovingly crafted details of each cabin are a joy to immerse yourself in using the headset.  
Driving is intense, with realistic visuals and lifelike physics providing a driving experience that's hard to achieve without spending thousands of dollars. The PS VR2 delivers a fantastic tactile experience that lets you feel the pedal resistance of the car and even the impact of a crash via haptic motors in the headset.
Puzzle
Price: $24.99
This charming puzzle game offers up a smorgasbord of cleverly-designed puzzles that are sure to tickle your grey matter. The goal of the game is to restore life to an ancient tree using robot clones that have the ability to record your actions. 
The idea of the game is to produce a number of these clones and get them to perform certain actions in an endless loop - then chain them together to complete puzzles involving planting, harvesting, combining, and storing fruits. Building your own army of clones and watching them work together to solve puzzles is an altogether satisfying experience.
As a company dedicated to providing innovative and original content, we pride ourselves in also working with influencers that amplify this dedication. Therefore we are honored to collaborate with Tony from VR Reviews helping us to share the latest virtual reality news on our website, please click the image below to find out more.