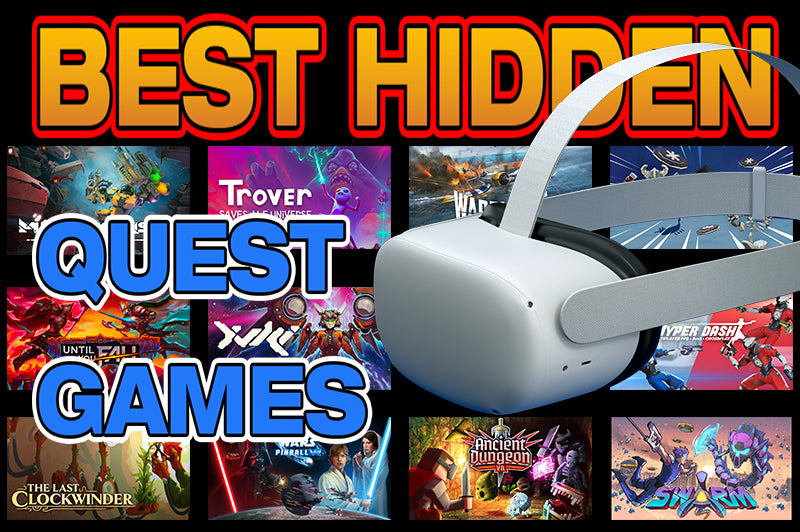 Best Quest 2 Games You've Never Heard Of
| Tony Mowbray
If you've ever spent time going over some of the 'best Quest 2 games' lists out there, you've probably seen many of the same titles appearing time and time again: Beatsaber, SuperHot, Moss, and so on.
In this article we cover some of the lesser known titles that tend to miss out on these top Quest game lists but are nonetheless highly rated. So without further ado, let's take a look at ten awesome Quest 2 gems you might not have heard of until now.
Swarm is an over the top arcade shooter featuring relentless action and a vibrant cel-shaded art style. The core of the gameplay is quite straightforward, swing around the map and shoot down enemies to top the competitive leaderboards. It's easy to get drawn in by Swarm's easy to learn but hard to master skill based controls and intense arcade gameplay.  
There are two games currently in the Warplanes series, WW1 Fighters, which as the name suggests is set in world war 1, and Battles over Pacific, set in world war 2. Both are great games but I have chosen Battles over Pacific for this list as it is the lesser known of the two and slightly better, in my opinion. 
Players get to step into the cockpits of twelve different planes, from fighters to bombers, and take part in the campaign against the Empire of Japan. Plane interiors are realistically detailed and flying handles satisfyingly well. There's also plenty to do, with a single player campaign, co-op missions and PvP multiplayer modes.
Probably the funniest game currently available for the Quest, Trover Saves the Universe is brought to us by the comedy genius of Rick and Morty co-creator, Justin Roiland. The story places you in the shoes of an alien and his partner, Trover, as you try to rescue your dogs from the evil Glorkon. 
If you're after a solid action-platformer with a ridiculously absurd and hilarious plot, then look no further. Just be aware that the humor is aimed at adults and is definitely not kid friendly.
For a roguelike game to be successful, it needs a secret ingredient to keep players hooked and willing to play over-and-over again. YUKI accomplishes this in spades. The fun, arcade bullet-hell gameplay draws you in, whilst the unlockables, different character abilities, power-ups and procedural generation help to keep things fresh and engaging.
This team based multiplayer FPS offers fast paced futuristic mayhem across seven different game modes. Hyper Dash uses a unique and intuitive dash teleportation movement system to deliver frantic shooting action that works amazingly well in VR. Whilst you might often get dominated by other players at first, you will find yourself improving as you begin to master the speed, strategy and accuracy essential to beating your opponents. 
Take on randomly generated stages filled with monsters, traps, secrets, loot and mini bosses, in this rogue-lite dungeon crawler. Gameplay is varied and excellent in-game physics allow you to cut down vegetation, break items and smash through walls. The enemies aren't damage sponges either, they'll react and stagger to your hits which makes combat all the more satisfying. 
Mothergunship: Forge is a fast and furious shooter featuring some of the most outlandish custom weaponry you're likely to see on the Quest. This wave shooter with roguelite elements has you moving between rooms, taking down alien foes and receiving rewards once each room is cleared. It's a solid shooter, with one of its best features being the ability to create and use some of the most ridiculous weapon combinations imaginable.      
The objective of this narrative driven puzzler is to construct an assembly line out of your own clones to harvest fruit and feed the machines. Puzzles are cleverly designed to get you thinking strategically about how to arrange your clones to gather as much fruit as you can, as efficiently as possible. The puzzle based gameplay is accompanied by a charming storyline that will keep you intrigued throughout and tug on your heartstrings.
Get your motley crew together and bang the drums to the beat, competing with opposing Viking longships in a race for the finish line. The better you drum, the faster your ship goes. Ragnarok features a variety of epic Viking songs to rock out to and spectacular norse themed environments. There's a solo mode and cross-platform multiplayer for up to six players.     
When you think of Star Wars, pinball is probably not the first thing that comes to mind, but this game might change that. Star Wars Pinball VR features ten star wars themed pinball tables based on the original trilogy, Rogue One, The Mandalorian and more. Each table is beautifully designed and includes immersive 360-degree minigames. As you play, there's items to unlock and then use to populate your very own fully customisable fan cave. 
As a company dedicated to providing innovative and original content, we pride ourselves in also working with influencers that amplify this dedication. Therefore we are honored to collaborate with Tony from VR Reviews helping us to share the latest virtual reality news on our website, please click the image below to find out more.