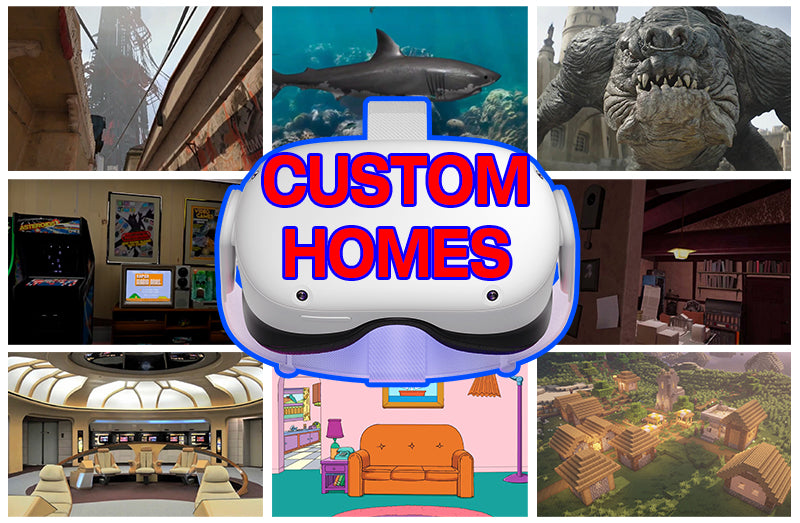 Best Quest Custom Home Environments
| Tony Mowbray
If there's one thing that can be said for Meta Quest owners is that we love to personalize and customize our Quests to make them our own. We enjoy making our Quests unique to us, whether it's through some comfort mod like adding grips for our controllers or pasting decals on the front of the headset. 
In the same way, choosing a Quest home environment that works for you is really important - every time you switch on your Quest or quit a game, you are surrounded by your home environment and so you want it to be one that's going to bring a smile to your face. In this article, I go over eight of my favorite custom home environments that are available to download from SideQuest right now.
Nostalgia is a wonderful thing and this Quest home environment is packed full of retro goodies from your younger years that are sure to bring back some fond memories. There's a coffee table strewn with retro consoles and accessories, complete with Super Mario Bros. playing on a CRT screen. A quick turn to the left reveals classic 80s arcade cabinets and pinball machines whilst a wood grain vinyl record player sits tucked against the wall to your right. This room is loaded with plenty more nostalgic items but we will leave the rest for you to discover for yourself.
Anyone who has ever watched Return Of The Jedi from the original Star Wars trilogy will remember the iconic scene where Luke faces off against the fearsome Rancor beast. This home recreates the Rancor's lair in all its horrifying detail, complete with the Rancor itself. The detail in this home is simply amazing - from bones littering the floor to the gloomy rocky interior. However, the star of the show is the beautifully rendered Rancor itself which towers over you striking a genuinely terrifying pose as he advances toward you with claws outstretched.
From one epic movie trilogy to another, this Back To The Future-themed environment is packed with things that fans will instantly recognize from the movie. This includes the dog bowl for Einstein (Doc's four-legged companion), the model of Hill Valley town square that Doc creates to get Marty home, and the giant speaker that we see Marty blow out at the beginning of the first movie.
This next Quest home places us on the bridge of the USS Enterprise (NCC-1701-D) of Star Trek: The Next Generation fame. The bridge of the enterprise is recreated here with a level of detail that is sure to delight even the most ardent fans of the franchise. You can wander around reminiscing about the classic show or take the captain's chair and pretend to by Captain Picard himself. 
If the NCC-1701-D bridge is not your cup of (earl grey) tea, there are other Star Trek-themed custom homes available including one that retreats the holodeck and another that recreates the USS Enterprise (NCC-1701) from the original series.
One of the most iconic and longest-running animated series - The Simpsons officially began in 1987 before regularly airing throughout 1990 and continues to this very day. For anyone who's watched the series, the opportunity to go through the Simpson's house in VR is too good to pass up. You get to see the KWIK-E-MART and MOE'S from inside the Simpson house with this home environment also recreating the kitchen and front living room in addition to the lounge.  
Despite its popularity, I was never a huge fan of Minecraft yet I would happily set this Minecraft-themed environment as my home anytime. There's so much going on in this custom home that you can spend tens of minutes looking around the charming voxel village just taking in all the sights. The colors are vibrant, there are pretty some nice light and shading effects, and you even get your own little house complete with furnishings. 
Have you ever wondered what it's like to go shark diving? This custom home environment lets you experience what that might be like whilst keeping all of your body parts intact. It's actually incredibly relaxing sitting atop a bed of coral hearing the dulcet tones of the water surrounding you whilst watching the sea life swim by. It's also one of the most visually impressive homes I have experienced - with crisp visuals and a rich underwater environment teeming with life. 
Half-Life: Alyx (HLA) holds the crown for many as one of the best, if not
the
best, VR games ever created. This home environment perfectly recreates an alley scene from this legendary title that holds a special place in many VR users' hearts. As you stand inside this custom home based off of City 17 you will be able to hear announcements ring out in the distance and see the eerie citadel tower looming ahead.  
As a company dedicated to providing innovative and original content, we pride ourselves in also working with influencers that amplify this dedication. Therefore we are honored to collaborate with Tony from VR Reviews helping us to share the latest virtual reality news on our website, please click the image below to find out more.