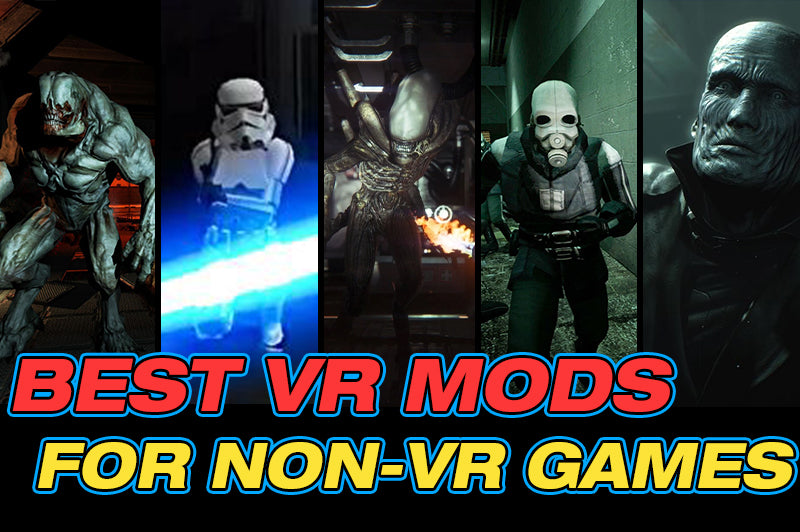 Best VR Mods For Non-VR Games
| Tony Mowbray
The VR modding scene continues to go from strength to strength with increasing numbers of talented modders giving VR support to beloved non-VR games. These mods range in quality with some of the best offering full motion controller support and features that rival those seen in native VR titles. Here we cover five of our best mods so far that give flatscreen classics a virtual reality makeover.  
Platforms: PCVR
It's hard to think of a video game series that's more iconic than Resident Evil when it comes to survival horror. In recent years some of the games from this legendary collection have been given the remake treatment for PC - with improvements made to the visuals and gameplay. 
These remakes have also received mods that allow you to play Resident Evil 2, 3, 7, and Village in VR with full motion controls.
The mods take you from a third-person perspective to first-person and allow you to physically aim, shoot, swing your knife, block, and even heal yourself. The series is quite graphically intensive so it does require a fairly powerful rig but once you have that down, get ready for some of the best horror gameplay VR has to offer. 
Platforms: PCVR
Play as Ellen Ripley's daughter, Amanda, trying to find out the truth behind your mother's disappearance. Your search for answers takes you to a decommissioned trading station on the edge of space where you are confronted by the same Alien killing machine that stalked your mum in the original Alien film. 
Alien Isolation is a 20-hour-long AAA horror title that is made even more petrifying thanks to this fantastic VR mod. Playing cat and mouse with a murderous seven-foot-tall xenomorph in VR is a terrifying experience that will leave you feeling on edge and vulnerable throughout. The mod also lets you hold the tracker and the guns with the aid of motion controller support.
Platforms: PCVR
This fan-made project breathes new life into the 2004 classic Half-Life 2 (HL2) from Valve Software. HL2 follows Gordon Freeman as he tries to rescue the world from the hostile alien forces that were unleashed by Black Mesa during the events of the original Half-Life.  
This mod makes HL2 almost feel like a native VR title with full room-scale VR and motion controller support that enables you to climb ladders, pick up objects, and aim weapons just like in real life. 
The intuitive controls and included VR options like comfort features and left-handed support make this mod an absolute triumph. There also exists VR mods for fans of the original Half-Life on both the Quest and PCVR platforms.      
Platforms: PCVR, Meta Quest 2, PSVR
Doom 3 ignores the events of the previous games in the series and reinvents itself as more of a survival horror experience. The adrenaline-pumping story-driven action can now be experienced in full VR with motion-controlled aiming and support for teleportation locomotion. 
Just like the other horror titles in this list - the VR mod escalates the tension and fear to a level just not possible in the traditional non-VR version. 
Whatsmore, it can be played in VR across a few different platforms, with official VR support on PSVR and an unofficial VR mod for PCVR and even the Quest. However, if you prefer Doom 1 & 2 over the third game, the original titles also have mod support for the PC and Quest.   
Platforms: Meta Quest 2
Star Wars and VR seem to go together like fish and chips, with this VR mod for Star Wars: Jedi Knight II being no exception to the rule. This 2002 masterpiece is considered one of the best Star Wars games of all time - it offers epic combat with the ability to dismember your opponent using your lightsaber or take them out with the aid of force powers like lighting, mind trick, and choke.
Shooting blasters, throwing lightsabers, and flinging stormtroopers off a cliff with force powers are now all possible using motion controls in this fantastic upcoming mod. 

The final release is not out just yet (expected 1st quarter 2023) but you can get a taste of what's to come with early access to the port via the Team Beef Pateron.
As a company dedicated to providing innovative and original content, we pride ourselves in also working with influencers that amplify this dedication. Therefore we are honored to collaborate with Tony from VR Reviews helping us to share the latest virtual reality news on our website, please click the image below to find out more.