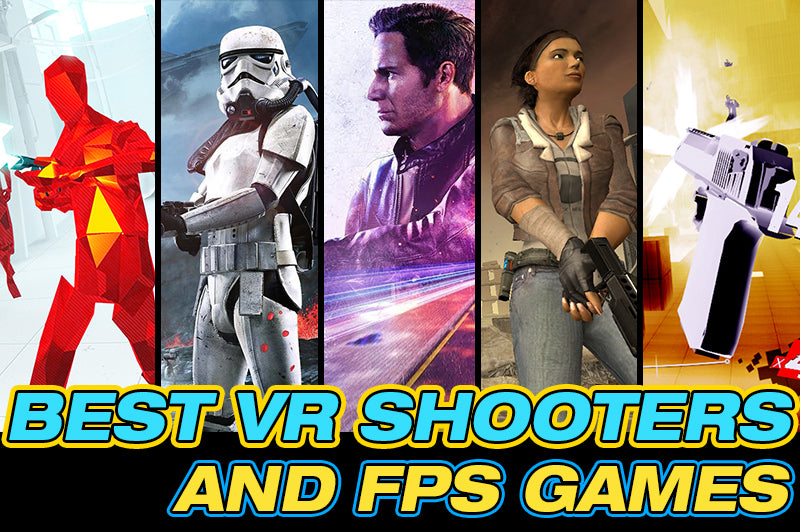 Best VR Shooters And FPS Games
| Tony Mowbray
It might come as no surprise that there are a lot of VR First-Person Shooters (FPS) out there given their popularity among VR players. To help you decide which one's are worth your time, we've put together our list of the best FPS games available right now across multiple VR platforms - so let's dive in!
Platforms: PC VR
Half-Life: Alyx is a VR game that needs little introduction - it's easily one of the best AAA experiences to date. Play as Alyx Vance as you battle your way through a dystopian city filled with merciless alien creatures known as the Combine. Featuring over 10 hours of riveting narrative, action-packed shootouts, and thoughtful puzzle design, this is one adventure you're not going to want to miss.
Platforms: Quest, PS VR, PC VR
Time pauses whenever you stop moving in Superhot VR. This unique game mechanic will often see you holding yourself completely still to bring time to a stop - allowing you to scan your surroundings and prepare for your next move.
Superhot VR is a highly addictive, strategic shooter that involves making the most of the movement-based time system and using your surroundings to destroy your foes whilst dodging waves of oncoming bullets in slow-motion Matrix-style.
Platforms: Quest, PICO 4, PS VR, PS VR2, PC VR
Shoot the bad guys while dodging their flak and other hazards - all to the rhythm of some catchy beats. With 30 hand-crafted stages, five different weapon types, modifiers, and story-driven campaigns, Pistol Whip offers a tonne of high-quality content to get lost in. Timing your shots to the music whilst stylishly dodging bullets never gets old, and it will give you a great workout too.
Platforms: Quest 2
As special agent Leon Kennedy you set out to investigate a remote village in your mission to retrieve the president's daughter. It's not long before things start to turn sour and you're caught up in a sinister plot involving hostile mind-controlled cultists. Resident Evil 4 (RE4) received critical acclaim when it was first released as a non-VR game back in 2005 and its highly-rated gameplay has stood the test of time. RE4 VR brings us this modern classic as we've never seen it before, adding full motion control support with improved gameplay mechanics.    
Platforms: Quest, PSVR, PC VR
The city of New Orleans has been overrun by flesh-eating zombies, leaving behind a post-apocalyptic nightmare complete with warring human factions. The Walking Dead is a survival horror game at its core but includes a healthy dose of both melee and ranged combat which gives it a spot on our list.
Despatching the shambling zombies that prowl the streets is a sadistically satisfying experience, all thanks to the excellent physics that lets you eliminate the living corpses in a variety of gruesome ways.
Platforms: Quest, PS VR2
This entry also includes the Last Call DLC which is a crucial addition to the base game and comes bundled with the PS VR2 Enhanced Edition. This action-adventure shooter sees players completing quests across the planet Batuu while battling heavily armed space pirates.
Combat is satisfying and draws you into the Star Wars-themed action nicely - peering over the edge of a rocky outcrop and engaging in a blaster duel with a droid will make you feel like you've stepped straight into the movies. There are also collectibles hidden throughout the galaxy's edge and mini-missions that let you play as a Jedi or an IG-88 assassin droid.
Platforms: Quest, PC VR
Compound tries to bring a modern twist to classic retro first-person shooters like Doom and pulls it off nicely. Clear floor after floor of randomized pixelated bad guys, unlocking modifiers and weapons as you progress. Compound is a simple, retro shooting action at its finest. There's plenty of weapons and mods to keep things interesting and different difficulty levels to ramp up the challenge.
Platforms: PS VR
Blood & Truth's frantic run-and-gun action brings you as close as you can get to an 80s action movie in real life. Whether you are bringing down attack choppers, destroying buildings with C4, or participating in fast-paced automobile chases - the adrenaline-pumping action is sure to have you on the edge of your seat.
Platforms: Quest, PS VR2, PC VR
Pavlov is an online shooter that you'll find included on many top-ten lists and for good reason. This intense multiplayer shooter has over 65 weapons with realistic VR mechanics and a variety of 5 Vs 5 game modes - such as deathmatch, team deathmatch, and prop hunt. There are also coop modes that include a zombie wave shooter, in addition to solo practice maps and gun ranges. Also, because of its popularity, there is also a sizeable player base so you will rarely find yourself stuck trying to find someone to play with online.
Platforms: Quest, PC VR
If you are after a slower-paced shooter featuring a level of complexity and realism that you won't find with most other games, then Into The Radius might be for you. Enter the Pechorsk zone, a massive open-world wasteland complete with surreal landscapes and dangerous stalking anomalies/entities. Much of the gameplay involves scavenging for items, maintaining your equipment, and organizing your loadout to give you the best chance of surviving the unforgiving world outside.
As a company dedicated to providing innovative and original content, we pride ourselves in also working with influencers that amplify this dedication. Therefore we are honored to collaborate with Tony from VR Reviews helping us to share the latest virtual reality news on our website, please click the image below to find out more.