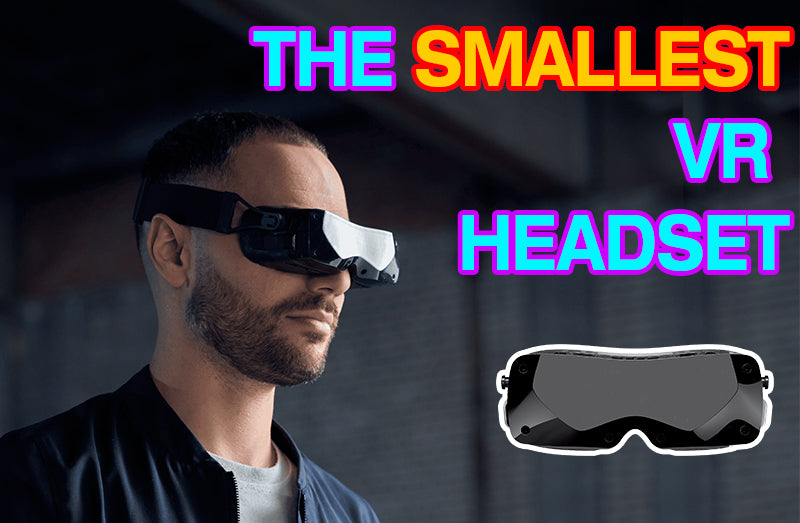 Bigscreen Beyond: Everything We Know About The Worlds Smallest VR Headset
| Tony Mowbray
Virtual Reality is a wonderfully immersive experience but even the most ardent VR user will tell you that headsets tend to be bulky and sometimes uncomfortable. This can be a big barrier to using this cutting-edge tech because let's face it, who wants to strap a heavy cumbersome box of electronic gadgetry to their face?
If heavy and bulky headset designs are an issue for you then Bigscreen Beyond may be the VR experience you've been waiting for. One of its biggest selling points is its size and weight, being the thinnest (143.1 x 52.4 x 24 mm) and lightest (127 grams / 4.5 ounces) headset coming this year. To put the size and weight into perspective, take a look at the comparison table below featuring some of the best-selling headsets to date.
| | | | |
| --- | --- | --- | --- |
| Headset | Device Type | Size (excluding head strap) | Weight |
| Meta Quest 2 | Standalone VR | 191.5 x 102 x 142.5 mm | 503 g |
| PS VR 2 | Console-powered VR | 277 x 187 × 185 mm | 560 g |
| Valve Index | PCVR | 320 x 260 x 110 mm | 809 g |
| HP Reverb G2 | PCVR | 185.9 x 74.9 x 84 mm | 550 g |
| Bigscreen Beyond | PCVR | 143.1 x 52.4 x 24 mm | 127 g |

Unparalleled Comfort
Bigscreen Beyond is approximately five to six times lighter than competing headsets and in some cases around half the size or less. It is a PCVR device so comparing it to a standalone headset like the Quest 2 which needs to house more hardware into its frame is maybe not the best or fairest comparison. However, as you can see, it also has a distinct weight and size advantage over its PCVR-powered counterparts.
In addition to the small and light design, a custom molded facial interface comes bundled with the headset to help provide a superior level of fit and comfort. A TrueDepth camera built into iPhone XR models (or later) is used to achieve the measurements for the tailored facial interface. The only part of this headset that may underperform in the comfort department is the head strap which is a single elasticated band that wraps around the back of the head. The absence of any top strap (something we commonly see with other headsets) does raise a question about how well the head strap supports the device but this is something that will only become clearer through testing.

Impressive Visuals
Bigscreen Beyond also packs a punch in the visual department - with dual one-inch microOLED displays delivering a crisp 2560×2560 pixels per eye. The OLED display would be expected to deliver more vibrant colors, higher contrast, and darker blacks than an LCD display. It also comes equipped with pancake lenses which allow for a smaller form factor and reduce reflections and God rays when compared to Fresnel lenses.
One disadvantage of OLED displays is their tendency to suffer from more of a screen door effect compared to LCD panels. This is due to LCD displays being able to pack pixels more tightly together which reduces the space between them. However, micro OLEDs have a higher pixel density than regular OLED panels meaning this should be less of an issue. They are also thinner, smaller, and more energy-efficient than standard OLED panels too.  
The display will have a refresh rate of 75-90 Hz which is pretty standard when it comes to VR headsets. Refresh rate is the number of times an image is refreshed each second and affects how smooth motion looks onscreen, with higher refresh rates delivering a more fluid moving image. A maximum of 90 Hz is sub-par to some other PCVR headsets available to date that can achieve 120 Hz or higher. 
Another area where Bigscreen Beyond doesn't perform as well compared to other headsets is Field of View (FoV). FoV is the amount of virtual world a user can see inside the headset and is determined by things like the size of the displays, the type of lenses, and how close the lenses are to the users' eyes. Bigscreen Beyond has a modest 93-degree horizontal and 90-degree vertical FoV which is roughly 3-10+ degrees less than other popular headsets.  
Bigscreen Beyond is available to pre-order now for the price of $999 and has an expected release date of Q3 2023.
As a company dedicated to providing innovative and original content, we pride ourselves in also working with influencers that amplify this dedication. Therefore we are honored to collaborate with Tony from VR Reviews helping us to share the latest virtual reality news on our website, please click the image below to find out more.