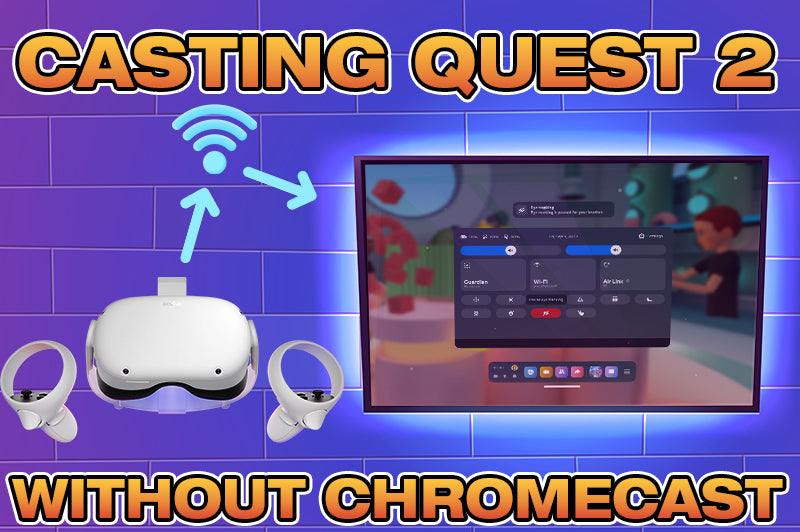 Casting Meta Quest 2 Without Chromecast
| Tony Mowbray
Casting your Quest 2 to a screen is a great way to get friends and family in on the action without needing additional headsets. There are a few ways to cast, with Google Chromecast being one of the easiest. 
However, a Chromecast costs money. Thankfully, for those of us who don't own one already, there are a few alternate options when it comes to casting to a TV, smartphone, or computer. 
Supported Casting Devices
Before trying any of the methods below, first, check the features of your Smart TV as some have a Chromecast or other device built in that will let you cast without needing additional hardware. Also, check if you have any of the following devices that support casting directly from your Quest to TV:
Google Home Hub

NVIDIA Shield

NVIDIA Shield TV
If you have any of the above hardware, you can cast in a few easy steps:
Put your headset on and press the Oculus button on the right controller

Select "Sharing" then the "Cast" icon

Select your TV from the list to begin casting

When done, select "Sharing" then the "Stop Casting" icon
Casting To Computer
Another super easy way to cast your gameplay on a larger screen is by using a computer and monitor.
Open your web browser and go to: https://www.oculus.com/casting/

Put your headset on and press the Oculus button on the right controller

Select "Sharing" then the "Cast" icon

Select your computer from the list
Casting To A Phone Or Tablet
This is one of the easiest methods of casting. It can be done with reasonably current Android or Apple mobile devices. 
Turn on your headset

Make sure both your headset and smartphone/tablet are connected to the WiFi network

Open the Meta Quest app

Tap "Cast" in the top right-hand corner

Tap "Allow" (if prompted) to search for other devices on the network

Tap the device you want to cast to e.g. "This Phone"

Tap "Start" when you're ready to cast

When done, tap "Stop Casting" at the bottom of the app
Casting From Mobile Device To TV
If you're after a screen that's a bit bigger than a mobile device, it may be possible to cast from your phone or tablet to your Smart TV. Bear in mind there is usually some lag using this method but it still works reasonably well.
Android Device
If both your smartphone and Smart TV have Miracast technology, it is easy to connect the two for screen sharing by following these steps:
Cast your Quest to your phone/tablet as outlined in the previous steps

Make sure that your phone/tablet and TV are connected to the same Wi-Fi network

Go to the input menu on your TV and turn on "Screen Mirroring"

Open the wireless display menu in your Android smartphone's settings and tap "Screen Mirroring" to turn on (note: screen mirroring might be given other names, such as "Smart View")

Select your TV from the list of devices

Follow the on-screen instructions to complete setup. This sometimes requires entering a code displayed on your TV into your smartphone to establish a connection
Apple Device
For this method, you will need an Apple TV or AirPlay 2-compatible Smart TV. This also works for casting your Quest 2 to Mac.
Cast your Quest to your phone/tablet as outlined in the previous steps

Open the control centre on your Apple phone or iPad

Tap "Screen Mirroring"

Select your Apple TV, AirPlay 2-compatible smart TV or Mac from the list

You might be asked to enter a passcode on the TV or Mac that you can find on the mobile Apple device you are using

To stop mirroring, open the control centre on your mobile device and tap "Stop Mirroring"
HDMI Adapter
In addition to the above, an HDMI adapter and cable can connect your phone or tablet directly to the TV. The Quest gameplay being cast to your mobile device will be shown on your TV through the HDMI cable connection. While it's not as convenient as the wireless method and an adapter costs money, if you can buy one cheap enough or have one already lying around, this is also a viable option.
There we have it! A few alternative ways of casting your Quest to a screen so you can share the fun with friends and family without needing to shell out for a Google Chromecast.
As a company dedicated to providing innovative and original content, we pride ourselves in also working with influencers that amplify this dedication. Therefore we are honored to collaborate with Tony from VR Reviews helping us to share the latest virtual reality news on our website, please click the image below to find out more.