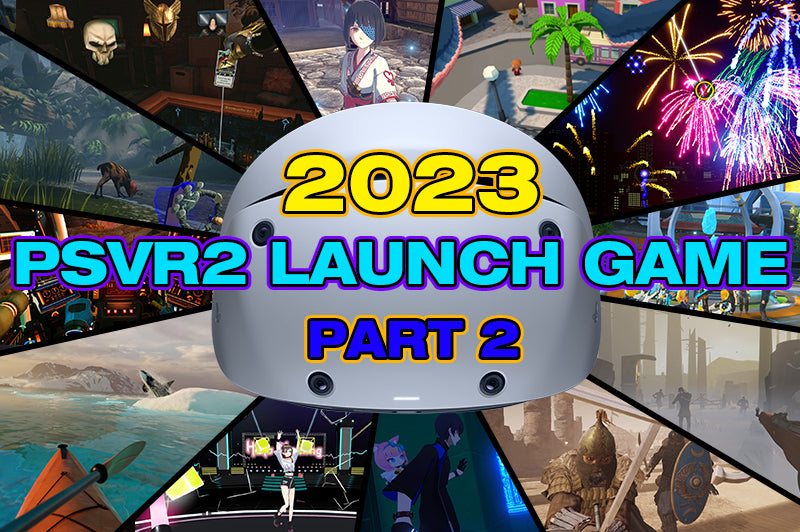 Every PSVR2 Launch Game For 2023: Part 2
| Tony Mowbray
Let's dive into Part 2 of our list of PSVR2 titles available at launch on February 22nd this year. To view Part 1 click here.
Way back when the PS2 first launched the first game I played was Fantavision - a puzzle game where players need to detonate three or more fireworks of the same color in a row to gain points. It's now back reimagined in VR as Fantavision 202X, featuring similar core gameplay to its predecessor but now using the PSVR2 Sense Controllers.
No Man's Sky will be receiving free DLC that will let you play the entire game in virtual reality. With this coming update, players will get to explore the stars like never before in this epic sci-fi adventure that takes place across an infinite universe. 
A challenging survival game set in a deadly but beautiful world - Song in the Smoke is getting an overhaul for its PSVR2 launch. Developers 17-BIT have announced that this new version will include a lot of extra polish and some added features based on player requests.
Swordsman VR is a PSVR2 launch title that offers a highly realistic arena-based sword-fighting experience…well, kind of realistic as you do get to battle fantasy monsters to battle and wield magical weapons. 
This roguelike FPS sees players using a magical torch to light their way whilst taking out bad guys with a selection of guns. Environments are procedurally generated and with each run of the game, you unlock new features like weapons and character classes. 
Put on your detective cap and try to solve the mysterious murder of the founder of a futuristic city called Astrum Close. Some interesting features of this game include being able to relive memories by touching certain objects and altering the present by going back and changing past behaviors.
A critically acclaimed adventure game coming to the PSVR2 launch day that sees players battling giant mythical beasts and solving puzzles alongside an AI accomplice.
Kizuna AI is a VTuber - which is a virtual character that appears on YouTube doing things such as playing video games or dancing. She is one of the biggest VTubers out there and in this rhythm-based game, you get to join her - hit blocks to the beat using glowsticks as Kizuna AI dances and sings onscreen. 
A physics-based puzzler that pits your wits against 50+ levels of tentacle-based mayhem. This launch title will make use of the PSVR2's adaptive triggers to add a sense of weight to objects and eye tracking which allows you to interact with people just by looking at them. 
Demeo brings a fantasy tabletop board game to life with up to four players teaming up to take on hordes of dungeon dwellers across four separate campaigns. The headset haptics, controller haptics, and even eye tracking will be utilized - with players able to make menu selections with just the blink of an eye. 
This visual feast will 'wow' you with its stunning environments and is playable in two different ways - there's a relaxed casual mode that's all about exploration and a more high-octane competitive mode that allows you to race against friends. You can even attach the controllers to a stick mount to take immersion to the next level.
Team up with friends to explore, craft, and battle in this open-world MMO set in a futuristic land of monsters and magic. This latest edition promises hundreds of hours of extra content, new features, and new bosses. It also promises to make use of the headset haptics and adaptive triggers on the Sense controllers.
As a company dedicated to providing innovative and original content, we pride ourselves in also working with influencers that amplify this dedication. Therefore we are honored to collaborate with Tony from VR Reviews helping us to share the latest virtual reality news on our website, please click the image below to find out more.