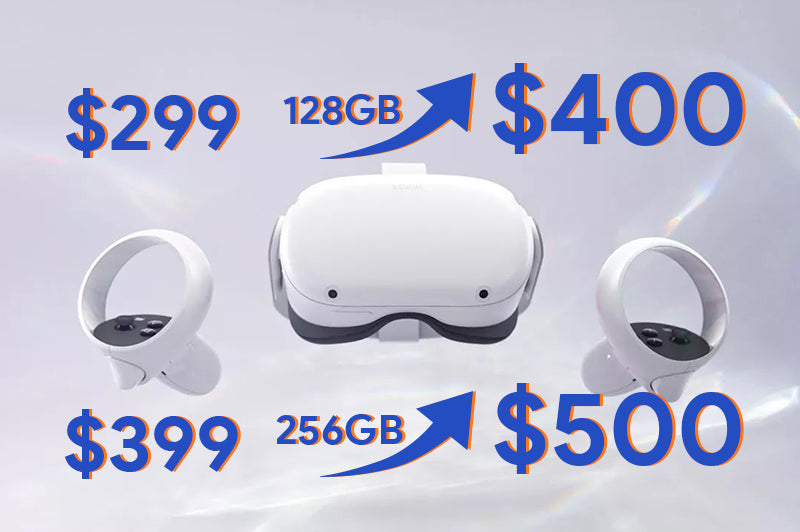 Meta to raise Oculus Quest 2 price by $100 - is it still value for money?
| Tony Mowbray
The Oculus Quest 2 price officially increased by $100 as of August 1st this year. Here's how the pricing changed:
• Oculus Quest 2 128GB price increased from $299 to $400
• Oculus Quest 2 256GB price increased from $399 to $500
Along with the price hike, the Quest 2 now also comes with a free copy of the popular rhythm fitness game, Beatsaber. Whilst the free game is a welcome consolation, Beatsaber can currently be purchased from the Meta Quest store for only $29.99. This means consumers who bought a Quest 2 and a copy of Beatsaber before the price increase would still save themselves a tidy $70.
The reason for the hike came in a recent blog post, where Meta announced that "the costs to make and ship our products have been on the rise". According to Meta, the unexpected price jump is due to high inflation increasing the cost of production. 
Is Quest 2 still worth it?
Whilst this latest move is a blow for consumers, especially in the current economic climate, the Quest 2 still offers great value for money. Meta maintained that even with the price increase, the Quest 2 "continues to be the most affordable VR headset" available for purchase.
The closest competitor to the Quest 2 is the pico neo 3 which offers similar specs and features at a similar price. However, the Quest 2 is likely to still remain the more attractive option for buyers. 
For example, when compared to the pico neo 3, the Quest 2 still has a significantly bigger games library, a lighter design and more precise tracking. This means that for the time being at least, the Quest 2 will probably remain the preferred choice for many.
Source: picoxr.com
Quest 2 accessories also increase in price
Official Quest 2 accessories have also been subject to a price increase along with the headset itself. Here's a list of the official accessories and their respective price jumps:
• Quest 2 Elite Strap price increased from $49 to $59.99
• Quest 2 Elite Strap With Battery price increased from $109 to $119.99
• Link Cable price increased from $79 to $79.99
• Carrying Case price increased from $49 to $59.99
• Fit Pack price increased from $39 to $49.99
Whilst the Quest 2 can be played without purchasing additional accessories, some accessories like the premium head strap are regarded as more essential than others.
The Quest 2 does come with a head strap out of the box so you don't have to shell out extra cash on a premium head strap to use it, but the stock head strap is made of an elasticated material that can become uncomfortable after brief periods of play. This is why for many users the head strap is often seen as one of the must have Oculus Quest 2 accessories. 
But should you invest in an official Quest 2 Elite Strap or Elite Strap With Battery now that they have also gone up in price?
Best Quest 2 accessories
Having tested the official Oculus Quest 2 Elite Straps and researched the experience of other users, there are better and cheaper alternatives that exist. The AUBIKA Excellence Head Strap is one such alternative. 
The Oculus Quest 2 Elite strap now costs $59.99 while the AUBIKA excellence head strap is priced at $34.99 (without the 10% discount for first time buyers), which results in a saving of around $25 dollars. 
On the other hand, if you were after the official elite strap with inbuilt battery for extended playtime, this will set you back the princely sum of $119.99. However, AUBIKA's alternative called the Excellence Head Strap With Battery comes in at only $64.99, a whopping $55 less than the official battery head strap. In addition, the AUBIKA excellence head strap with battery is able to hold more of a charge meaning you get an extra 30+ minutes playtime compared to the official battery strap. 
Perhaps the strongest case for investing in an unofficial alternative is the reputation for the official elite straps to crack and break after repeated use. Following my own durability test, I was unable to crack or break the AUBIKA straps, nor could I find any user reports that they were prone to the same cracking issue as Meta's official elite head straps.
Should I purchase a Quest 2?
Considering the Quest's features and current competition, the VR headset still represents great value for money even with the price increase. When it comes to official Quest 2 accessories however, you might want to shop around first before committing to buy. Unofficial alternatives like the AUBIKA excellence head strap exist which are significantly cheaper and outperform the official products.
As a company dedicated to providing innovative and original content, we pride ourselves in also working with influencers that amplify this dedication. Therefore we are honored to collaborate with Tony from VR Reviews helping us to share the latest virtual reality news on our website, please click image below to find out more.