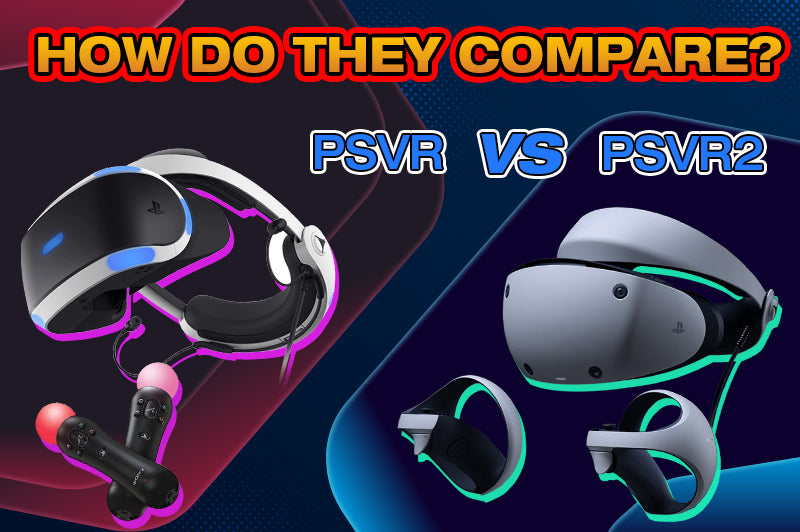 PSVR2 Vs PSVR: How Do They Compare?
| Tony Mowbray
Sony is about to take its next step into the world of virtual reality with the release of the Playstation VR 2 (PSVR2). This headset is designed to work exclusively with the PS5 console and offers a host of new features and improvements over the previous model. We'll take a look at every major thing we know about the PSVR2 so far and see how it compares to Sony's first headset which launched in 2016, the PSVR. 
PSVR2 Release Date, Price, And Specs
The PSVR2 is scheduled for release on February 22nd, 2023 for the price of $549.99 / £529 / €599.99. Below is an overview comparing some of the PSVR2's main features with its predecessor, the PSVR.
| | | |
| --- | --- | --- |
| | PSVR | PSVR2 |
| Lenses | Aspherical | Fresnel |
| IPD Adjustment | 58-70 mm (using software) | Adjustable using hardware and eye tracking |
| Resolution (per eye) | 960x1080 | 2000x2040 |
| Display | RGB OLED | HDR OLED |
| Refresh Rate | 90Hz, 120Hz | 90Hz, 120Hz |
| FOV | 100 | 110 |
| Tracking | 6 DoF outside-in | 6 Dof inside-out |
| On-board Cameras | None | 4 cameras for headset and controller tracking, 2 IR cameras for eye tracking |
| Audio | Integrated stereo speakers, mic and 3.5mm audio jack | Comes with earbuds, inbuilt mic and 3.5mm audio jack |
| Connectivity | HDMI, USB 3.0 | USB Type-C, Bluetooth 5.1 |
| Weight | 600g | 560g |
| Launch Price  | $399.99 / £349 / €399  | $549.99 / £529 / €599.99 |
Lenses and Display
As the above table shows, the PSVR2 outdoes the original headset in most every way except for the price. Starting with the lenses, PSVR2 will use the Fresnel-type lens which is currently the industry standard. Fresnel lenses do have some drawbacks such as being prone to glare but they also have benefits like minimizing dynamic distortions known to cause motion sickness.
Manual IPD (Inter-Pupillary Distance) adjustment will also be possible with the PSVR2, something which was notably absent with the original headset. This is a good feature to have for many reasons, but essentially, it will help to maximize comfort and image quality by allowing users to calibrate the distance between the lenses to match the distance between their eyes.
Now onto the display itself and the PSVR2 offers some marked improvements over its predecessor, with around four times the pixel count giving it much sharper image quality. The display will also include High Dynamic Range (HDR), which means it should be able to provide a broader brightness range than the original PSVR too. In addition, the PSVR2 has a slightly wider field of view (about 10 degrees more) for increased immersion.   
Cameras and Tracking
Tracking is another area where major improvements have been made over the first headset. The original PSVR used the PS4 camera for external tracking which had its fair share of problems with accuracy. Thankfully, the PSVR2 uses four onboard cameras for inside-out tracking. This means the tracking system is built into the headset itself and doesn't require any external peripherals to figure out where the headset or controllers are located in 3D space. 
If the PSVR2's inside-out tracking works anywhere near as well as the Quest 2, we will see a noticeable improvement in the ability to track players' movements. The headset's onboard cameras also give it a pass-through view, that's the ability to look at the external environment through the cameras in the headset without taking it off. 
Sony reports that these cameras will be capable of mapping the shape of your room and automatically setting up a suitable playspace boundary. The PSVR2 will also feature a pair of onboard Infra-Red (IR) eye-tracking cameras too. 
There are many reasons why you might want to track the user's eyes within the headset. Firstly, it allows for something called dynamic foveated rendering. This feature saves processing power by using eye tracking to reduce visual clarity in areas of the on-screen image that are outside of the eye's focus. The idea is that because the reduction in visual quality always happens in the user's peripheral vision, which is quite poor, the diminished detail isn't noticed and processing power is freed up for other things.
Eye tracking can also be used to enhance social interactions by transferring players' real-life eye movements to digital avatars in the virtual space. Whatsmore, developers could use it in innovative ways to enhance gameplay. For example, The Dark Pictures: Switchback VR is a horror shooter for PSVR2 that makes terrifying use of the headset's eye-tracking feature by introducing enemies that only move when you blink!
Audio and Haptics
There will be no in-built speakers with the PSVR2 which might make audio one of its weakest features. You will have to rely on the TV's speakers or connect a pair of headphones to the audio jack or Bluetooth to receive any sound. Fortunately, there is a pair of stereo headphones included in the box. 
Last but not least, we have a feature that is currently only available for the PSVR2 - headset haptics. This essentially means the headset will rumble in response to actions within a game. Haptics is not only confined to the headset but will also be included with the controllers, which we will discuss next.   
PSVR2 Controllers
The original PSVR came with the Playstation Move motion controllers which had a wand-shaped design and felt a bit like gripping a TV remote or Wii controller. The PSVR2's Sense controllers, however, bring us a much more ergonomic orb-like design that is more comfortable to hold and better able to accommodate different hand sizes. 
Another difference with the PSVR2 controllers is the inclusion of adaptive triggers that are capable of adjusting tension in response to gameplay. For example, the controller's trigger button tension could increase in response to pulling the trigger of a virtual gun, delivering a much more realistic experience.
One area where the Sense controllers will be similar to their predecessors is in the ability to deliver haptic feedback, although the Sense controllers offer more advanced haptics. They can deliver precise, nuanced feedback that allows users to feel the tactile difference between different surfaces, for example, traveling across a surface like sand will feel different compared to gravel. 
The PSVR2 Sense controllers also include finger touch detection, a technology that allows them to detect where your fingers are without having to press anything. This allows players to make much more natural hand gestures during gameplay.
All in all, the PSVR2 is looking like a significant improvement over its predecessor. Whilst it does come with a heftier price tag than the PSVR, it will also be packed with a lot more features to justify the increase. You can find out more about the headset on Sony's official PSVR2 product page. 
As a company dedicated to providing innovative and original content, we pride ourselves in also working with influencers that amplify this dedication. Therefore we are honored to collaborate with Tony from VR Reviews helping us to share the latest virtual reality news on our website, please click the image below to find out more.