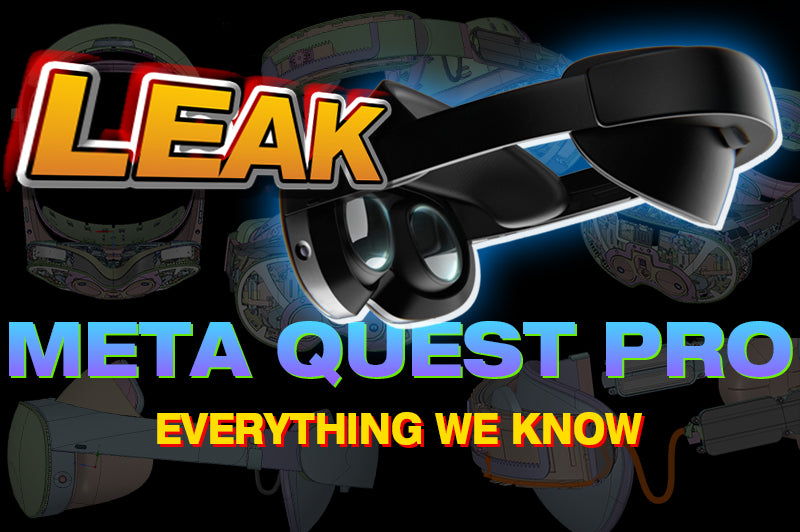 Quest Pro (Project Cambria): What we know so far
| Tony Mowbray
There's been a lot of hype surrounding Meta's upcoming headset codenamed 'Project Cambria' after leaked images and video of the device recently surfaced online. Project Cambria refers to Meta's upcoming headset which is thought to be called the Quest Pro and is set to arrive in stores the second half of 2022. The prospect of new VR hardware is always exciting but what exactly do we know about the device?  
What we know about Quest Pro
Below is a list covering what we know so far about Meta's next headset. Bear in mind to take this information with a pinch of salt because some of it has not yet been officially confirmed by Meta.
• Eye/face tracking: Quest Pro will allow for eye and face tracking, with both of these features not present on the Quest 2. This will allow your virtual avatar to mirror your expressions in real time. Perfect for those social interactions in the metaverse.
• Auto IPD adjustment: This point is pure speculation but given the Quest Pro can track both your eyes and face, it stands to reason that it can also automatically adjust your IPD. IPD stands for 'Interpupillary Distance" and is the distance between the centre of the pupils. IPD varies for each individual and so with the Quest 2, the spacing of the lenses needs to be manually adjusted to match the users IPD but this process could be done automatically with Quest Pro.
• Used for enterprise: Meta CEO Mark Zuckaberg mentioned the Project Cambria headset will be focused on "work use cases" and is designed to eventually replace "your laptop or work setup". So it looks like the advanced features such as eye/face tracking will be used for interacting with coworkers in Horizon Workrooms and not so much for taunting your opponent with funny faces in a deathmatch.
• Mixed reality: The Quest Pro will feature high resolution colour cameras for quality mixed reality experiences (mixed reality being the merging of real and virtual worlds). According to Zuckaberg, the "full color passthrough mixed reality [will] seamlessly blend virtual reality with the physical world."
• Not a successor to the Quest 2: The Quest Pro will not replace the Quest 2 as it is designed mainly for work purposes whilst the Quest 2 is more for gaming. The Quest 2's successor (Quest 3) will likely be released next year. That being said, you will reportedly be able to play your entire library of Quest games on the Pro.
• More expensive than the Quest 2: Earlier this year, a spokesperson for Meta contacted Road to VR and claimed the price of the headset will be "significantly higher" than $800. What "significantly higher" means is open to interpretation but it does mean the new headset will cost over $400 more than the Quest 2, which is currently priced at $399.99.
• Greater comfort: Continuing our comparison with the Quest 2, the Quest Pro will likely be more comfortable. We can see by the leaked images and video online that it will feature a padded halo strap, which is a strap design known to be one of the most comfortable. It is also said to be lighter and smaller than the Quest 2.
• Goodbye tracking ring: Say goodbye to the controller tracking ring as the Quest Pro controllers feature optical tracking via cameras. This offers more precise tracking that makes the controllers detectable even when they are behind the headset. There also appears to be exposed metal contacts on the controllers, indicating that they will be rechargeable via a charging station. The leaked video also shows some kind of docking station pictured on the Quest Pro box.
• Pancake lenses: The Quest 2 has fresnel lenses that need to be placed a certain distance from the displays. The Quest Pro's pancake lens design can be moved much closer to the displays allowing for a much slimmer design.
• Tech specs: The Quest Pro will feature mini-LED displays delivering 2160 by 2160 pixels per eye, which is an improvement on the Quest 2's 1920 by 1832 resolution displays. Essentially, this will improve the visuals by around 33% when compared to Quest 2. The Quest Pro is also said to feature 12 GB of RAM, 256 GB of storage, a Qualcomm Snapdragon XR2 5G chipset and a 5,000 mAh battery.
That's about all we know of the Quest Pro for now but we will likely hear more about it at the Meta Connect conference happening October 11th. Since the Oculus Pro is planned for release this year, we may even see it become available for purchase during the Meta Connect event itself. 
As a company dedicated to providing innovative and original content, we pride ourselves in also working with influencers that amplify this dedication. Therefore we are honored to collaborate with Tony from VR Reviews helping us to share the latest virtual reality news on our website, please click the image below to find out more.