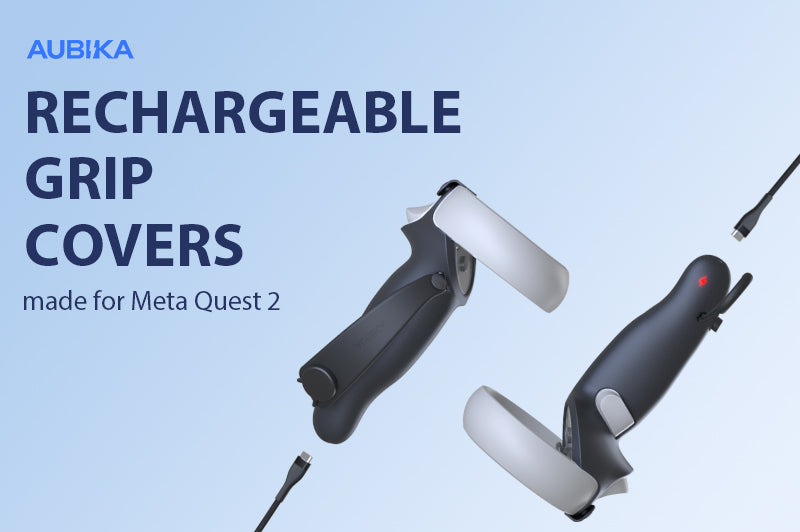 Review: AUBIKA Rechargeable Controller Grips for Meta/Oculus Quest 2
| Tony Mowbray
The AUBIKA Rechargeable Controller Grips for the Quest 2 combine a grippy textured cover for your controllers with the added convenience of rechargeable batteries. In this review, I go through everything you need to know about the grips, starting with what you get inside the box.   
What's in the box
In the box, you'll receive two grip covers, two rechargeable batteries, a braided 3-in-1 USB-C to dual USB-C cable (to charge both controllers simultaneously with the official Quest 2 power adapter), and a user manual. The grips themselves are made from a textured black rubber with an adjustable silicone hand strap and a USB-C port on the bottom for charging. The rechargeable Ni-MH batteries have a capacity of 1000mAh that promises around 20-24 hours of playtime on a full 6-hour charge. 
Installation
Fitting the grips is super straightforward with the user manual taking you through each step. First, take off the original battery cover and replace the battery with the rechargeable one provided. The rechargeable battery is as easy to insert as a regular AA battery and their design makes it impossible to put them in the wrong way around. 
Then, gently push and wiggle the cover over the controller until you hear it 'click' before finally securing the two button and loop fasteners at the top to help keep the cover in place. That's it. All in all, it took me around a minute to fit each grip and they were just as easy to remove as they were to install.
Testing
After charging the controllers and booting up my Quest 2, I noticed the controller batteries were showing as less than 100% charged even though they had just undergone a full charge cycle. However, the user manual explains that this is normal and the batteries should still last around 20-24 hours regardless of what the on-screen charge indicator shows.
I then took the grips through their paces by playing some of the most intense Quest titles available. My testing regime included games like Beat Saber, Blacktop Hoops, FitXR, and Until You Fall. Each play session involved a lot of controller swinging, button mashing, and copious amounts of sweat.
After a little adjustment of the hand strap, the controllers felt snug and secure in my palm. The soft, textured lines of the grip worked in tandem with the supple silicone hand strap to keep my palm firmly but comfortably grasped to the controller even when working up a sweat. 
I had to play around with the position of my hand within the hand strap initially to align my fingers with the controller buttons properly. After a little experimentation, I managed to get my hands in a position where they felt right and could easily reach the controls. 
During testing, I threw virtual basketballs as hard as I could with my grip open, swung my arms around excessively, and just about did everything I could to get the controllers to slip out of my hands. I am pleased to report that nothing was broken in the process as the controllers stayed firmly in my grasp despite my best efforts.
As a point of comparison, I reverted to using the controllers without the grips just to compare the difference and it was like night and day. The smooth plastic of the controllers felt slippery in my palms and this got even worse when exercising, making it a relief to switch back to the grippy AUBIKA covers.       
Fit
Whilst the grips fit comfortably for me, it's important to see how they work for different hand types. My hands measure about 3.54" in width (across the palm) and 7.87" in length (from the tip of my middle finger down to the crease of my wrist). 
This means my hands are a little above average in size for a male and so if you fall in or around that category, then they should fit you perfectly fine. The grips should also have no problem fitting someone with much larger hands than mine as I found there was a lot more capacity to make the hand straps larger when wearing them.
I then went in search of someone with smaller hands to try them out and my wife volunteered as the test subject. Her hands are 3.14" in width and about 6.89" in length, which is around average for a female. She had no trouble putting on the grips and after engaging in an intense session of Beat Saber reported they felt secure and comfortable.
The hand straps can only be adjusted so far and I wasn't able to try them on anyone with very small hands but overall, the results of my testing showed the grips are suitable for a range of different hand sizes and should fit most users well.


Limitations     
I didn't find many drawbacks with this accessory, just a few small nitpicks to be aware of. Firstly, they add 74 grams of weight to each controller (excluding the rechargeable battery), which isn't much but is still something to consider. 
Another small point to note is the cord used to tighten the hand strap can flap around when moving the controller vigorously which could potentially cause a minor distraction during play. However, I managed to solve this problem by twisting the cord around and looping it over the bottom of the grip so it stayed in place.
Something else to keep in mind is that whilst the rechargeable battery function is good for the environment, convenient, and cost-effective, you will have to wait for them to charge. One benefit of using regular AA batteries is the ability to just swap them out when the power runs low and continue playing. 
Finally, there is no built-in safety wrist strap or a place to connect your existing one. This wasn't an issue for me as I typically do not play with the wrist strap and the controllers felt completely secure in my hands with the grips installed, but it would have been nice to have the option. If wriststraps are important to you, I found a workaround by tying the wriststrap to the hand strap adjustment cord and using them like that.
Overall Impressions
To put it simply, AUBIKA's Rechargeable Controller Grips are the best Quest grips I have used out of the many I have owned over the years. They offer a comfortable and snug fit with the benefit of rechargeable batteries at a very affordable price. 
Once you experience these grips you won't want to go back to using the Quest controllers without them. The AUBIKA Rechargeable Controller Grips are available now for Meta Quest 2 for the price of $32.99 USD.  
As a company dedicated to providing innovative and original content, we pride ourselves in also working with influencers that amplify this dedication. Therefore we are honored to collaborate with Tony from VR Reviews helping us to share the latest virtual reality news on our website, please click the image below to find out more.