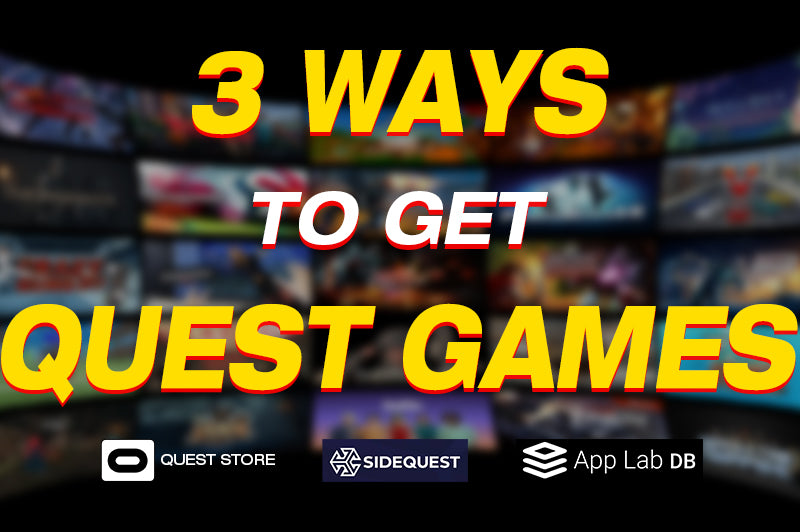 Three ways to get Quest games: Quest Store, App Lab, and SideQuest
| Tony Mowbray
If you've never heard of SideQuest or App Lab then there are a lot of experiences you could be missing out on for your Quest. The additional content these platforms offer is a mixed bag ranging from almost unplayable apps to games that rival the quality of those found on the official store. In this article I will introduce you to these platforms and what you can expect, starting with the official Meta Quest store.
Official Meta Quest store
Experiences featured in the Quest store are considered the gold standard and get the most user attention out of all platforms featured on this list. Because the Quest is the first foray into the world of VR for many users, Meta has aimed to keep content curated for the store at a very high level of quality. This means Meta are very strict about what they allow and do not allow in the store.
Whilst the official Meta store contains content that is (mostly) of the highest caliber so users can purchase apps with confidence, it also means many developers don't get to share their content with the wider Quest community. Many experiences get rejected from the official store for one reason or another due to the high bar set by Oculus. 
Some of these reasons might be because the game is too experimental or in early development. Perhaps the content is rejected because it is aimed at a niche audience or goes against Meta content guidelines in some way. Any one of these reasons could lead to good content not being accepted into the store which is a loss to both developers and the Quest community. This is where SideQuest comes in.
How to use it
The official store is the easiest way to download Quest content out of the three platforms. It can be easily accessed through the Oculus mobile app, the Meta website, or from the main dashboard within the headset.
SideQuest
SideQuest was launched by Shane Harris back in 2019. Shane was one of the many developers who had their game rejected from the official store and soon noticed that many other developers were having the same issue. Seeing a gap in the market, Shane developed SideQuest as an alternative platform to the official store that doesn't hold itself to the same rigorous standards. 
SideQuest is a place where developers can post VR content of varying quality and completeness. It is also a safe way for Quest users to enjoy this cutting edge and sometimes experimental content on their headsets. SideQuest is completely free for both users and developers but not all games are free to play, with developers choosing whether to charge for their content or to allow it to be downloaded for free with an optional donation. 
SideQuest also acts as a proving ground for developers to showcase their content to receive feedback and build a community following that could support an application to bring their game to the official Quest store or App Lab (which we will discuss next). For example, Cubism and Virtual Desktop are two experiences that started off on SideQuest and are now available as paid apps on the official store.
How to use it 
The SideQuest platform can be installed onto your headset but it needs to be sideloaded (transferred from one device to another) onto the Quest which is a barrier for some users because of the setup process. To sideload content users need to download SideQuest, make a developer account and connect a computer or mobile device to the headset and begin downloading. Whilst the process doesn't take too long and is fairly straightforward, it is certainly the most time consuming setup to download games out of all of the platforms listed here. 
SideQuest is currently available for Windows, Mac, Linux and Android Mobile devices. You can find out how to download and setup SideQuest here.
App Lab
App lab can be thought of as a content platform that exists in-between SideQuest and the official store. Much like SideQuest, App Lab supports developers in promoting both free and paid content that typically doesn't meet the criteria of the official store. This means you will find a range of content from pre-releases and demos to full games and apps. App Lab apps are required to comply with the App Lab Policies, including the Oculus Content Guidelines, Data Use Policy, and App Policies. 
Compliance with these standards are met through an application process which can be a good thing as it means content featured on App Lab is on average better quality than what you might find on SideQuest. On the other hand, this process can restrict what content is published and cause delays in the publication process, so SideQuest remains the number one place to find some of the newest experimental and cutting edge content.
One of the biggest and most useful features of App Lab is the ability to download content directly from the headset. While App Lab is distinct from the Oculus Store, users who install apps from App Lab will find them in their Quest library whereas SideQuest content appears in the rather ugly Unknown Sources section.
Another advantage of App Lab apps is that they can access the majority of standard platform features, including automatic update distribution, platform integration, release channels, and more. For example, if a SideQuest game receives an update, you would usually need to sideload the game to your Quest again whereas app lab content updates in the same automatic way that official Quest store content does.
How to use it
App Lab apps can be searched by exact name and found in the "App Lab" section of results. Otherwise, you can browse app lab content by selecting the App Lab filter on the SideQuest store (https://applab.games) or browse the library of App Lab games from inside your headset by typing the following link into your Oculus web browser: https://www.applabdb.com/
Summary
Whilst the official store features a great library of games, some of the best VR experiences I have had have been downloaded through SideQuest and App Lab. For example, the first ever in-game hand tracking experience I had was through SideQuest and the best free multiplayer shooters I have ever played are on App Lab. Quest users can unlock a wealth of additional content by using these platforms that exist outside of the official store and I strongly recommend giving them a go!
As a company dedicated to providing innovative and original content, we pride ourselves in also working with influencers that amplify this dedication. Therefore we are honored to collaborate with Tony from VR Reviews helping us to share the latest virtual reality news on our website, please click the image below to find out more.