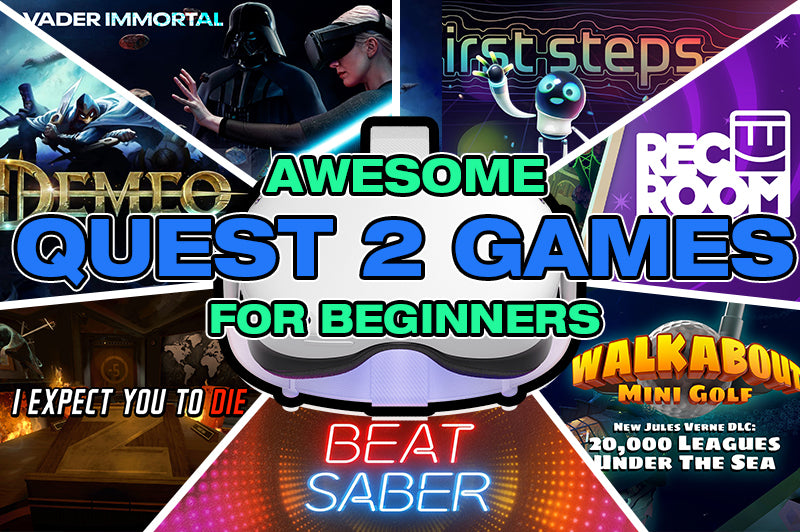 Awesome Quest 2 Games For Beginners
| Tony Mowbray
There's literally thousands of free and paid Quest games to choose from across the Meta Quest store, App Lab, and SideQuest. Whilst this is great, it can also be a little overwhelming, especially for new VR users. As a beginner, you want to play impressive games that are both easy to get to grips with and comfortable to play.
When I talk about comfort, I am referring to a game's ability to cause VR sickness. This occurs when exposure to the virtual environment inside the headset causes symptoms similar to motion sickness (e.g. nausea, sweating, dizziness). Whilst some people might be more resistant to VR sickness than others, and it is possible to build tolerance over time, it's always a good idea to start off with less intense games.   
The following list covers seven awesome VR games that offer the right combination of fun and intensity that's perfect for beginners.  
This quick, demo experience comes pre-installed on your Quest 2. With a name like First Steps you can probably guess that it's aimed at users who have never experienced VR before. It goes over the basics of the Quest's controls and how to perform simple actions in VR, like grabbing and throwing.
Beyond teaching the basics, there's some neat experiences to try, like flying a model blimp, launching rockets, shooting guns or having a robotic dance-off. First Steps is a great way to get acquainted with the Quest and showcase the potential of VR. 
An oldie but a goodie, Rec Room allows you to build and play multiplayer games within a massive online community. Challenge players to a game of paintball, embark on an epic quest or engage in one of the thousands of user created rooms and experiences. 
Rec Room is a great online multiplayer game for beginners as it offers a lot of variety and lets you go at your own pace; jump into a fast-paced game of laser tag or just chill out and chat in the community room, it's up to you. There's a lot of comfort options too, and even though you might occasionally experience toxic behavior from other players, there is a reporting feature and settings to disable voice chat. 
Demeo takes the classic concept of a fantasy board game and brings it to life in stunning virtual reality. Players take up a spot around a procedurally generated dungeon board and take turns to move their heroes through to the exit. Along the way you'll encounter all manner of devious traps, monsters and loot.
The combat mechanics are simple so it's easy to pick up and play, but the different moves and spells available offer enough complexity to keep things interesting. It's a very comfortable experience too, given you don't need to move at all during the game. With four separate campaigns, multiplayer for up to four players and six character classes to choose from, board games have never looked so good. 
Schell Games, the developers of the I Expect You To Die (IEYTD) series, are experts at delivering highly immersive experiences that can be enjoyed by almost anyone. IEYTD offers up a cinematic story alongside exceptionally interactive puzzle based gameplay. 
The game is based on the James Bond spy trope, where you play a secret agent trying to foil the plans of a master villain. This sees you having to puzzle our way out of all kinds of elaborate traps or die trying in a number of hilarious ways.
The thing about Walkabout Mini Golf is that it's a social experience as much as it is a golf game. Walkabout is my go-to game whenever I want to catch up with a mate or two in VR, but if you're not up for multiplayer, there is a single player mode too. 
Casually strolling around the beautifully designed courses, either with smooth locomotion or teleportation, is a lot of fun in itself. The physics work brilliantly and the simple concept makes it super easy for VR beginners to launch into a game and start having fun straight away. 
Probably the most well-known title on this list, Beat Saber was released back in 2018 and is still arguably one of the best games on the Quest. Dodge incoming obstacles and use dual sabers to slice coloured blocks to the beat of a selection of popular songs. 
Gameplay can get physically intense but there are easier songs and difficulty settings so you can tailor the game to match your preference. Beat Saber is a highly addictive game with a lot of replay value that's easy for anyone to pick up and play but difficult to master.     
Vader Immortal comes in three separate parts and can be thought of as one big interactive VR movie. It balances scripted cinematic sequences with interactive elements that have you doing all sorts of fun stuff, like using the force, blasting stormtroopers and engaging in lightsaber duels. 
Progression is a very linear, scripted sequence of events, so gameplay is quite casual in that respect. The impressive visuals and engaging story, along with the simple gameplay mechanics, makes this title a perfect introduction to VR. 
As a company dedicated to providing innovative and original content, we pride ourselves in also working with influencers that amplify this dedication. Therefore we are honored to collaborate with Tony from VR Reviews helping us to share the latest virtual reality news on our website, please click the image below to find out more.