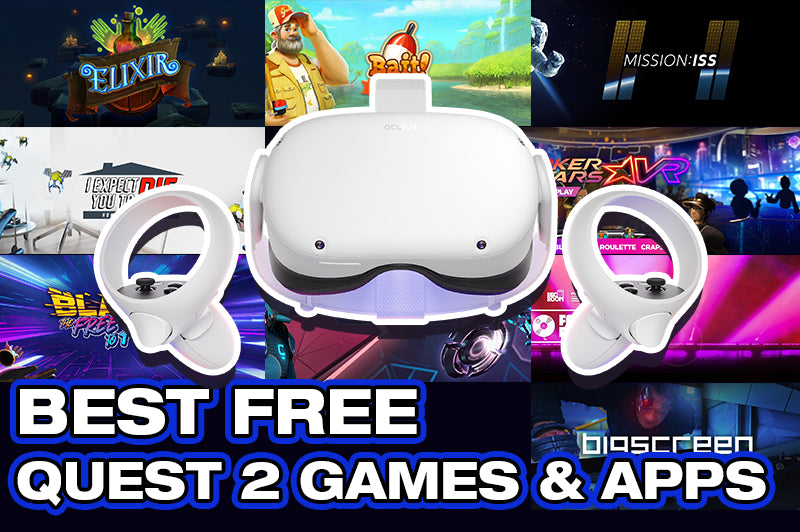 Best Free Quest 2 Games & Apps
| Tony Mowbray
Everyone loves a freebie so we have put together a list of some of the best free VR games and apps you can download right now for your Quest. This list only includes games from the official Quest store but if you are looking for more awesome free content make sure to check out the best free App Lab games list for Quest 2.  
This arena-based sports game pits two teams of robot players against one another in zero gravity. Push off surfaces to launch through the environment and use your wrist rockets to maneuver around your opponents before netting a frisbee into the opposing goal to score. You can also play dirty by temporarily disabling rival players with a swift punch to the face. Echo VR is without a doubt one of the best free-to-play sports multiplayer games you can get on the Quest.  
This simple but fun fishing game is set over seven different locations with each environment containing its own unique kinds of fish. There's also a bit of a storyline too - with the goal being to catch rare fish for an aquarium that has fallen on hard times. It's a well-put-together, casual experience that also features a multiplayer mode for up to twelve virtual anglers.    
This is probably the most popular free game on this list and with good reason - it offers a massive selection of fun games to play online with friends. Some of the games include paintball, disc golf, laser tag, and my personal favorite, mini-quests where you team up with three other players to battle through a series of stages coop. You can even create your own rooms and content or play with other people's creations.  
This game has just recently become free to download from the official Quest store. It's a 1 Vs 1 multiplayer dueling game where each player uses the shields and weapons that spawn nearby to smite their opponent. Successfully bodging and blocking incoming fire is also vital if you hope to be victorious in this adrenaline-pumping competitive shooter. 
Play as a sorcerer apprentice tasked with experimenting with potions and maintaining the magical contraptions within an alchemy lab. You are guided through the process by a sorceress who has little regard for your safety as her requests will get you electrocuted, burned, and cause your hands to be transfigured in all kinds of weird and wonderful ways. It's a short experience but definitely worth a go for the fun sandbox-like gameplay and to experience the Quest's hand-tracking feature.   
A casual social strategy game that, as the name suggests, allows you to play classic card games like poker and blackjack with others online. There's no real money involved so you don't have to worry about credit card details or your bank account getting wiped out. There's 
Experience the International Space Station in VR with this free educational experience that's out of this world. A word of warning - moving around in zero gravity can be vomit-inducing, even for more experienced VR users. However, if you can stomach the twists and turns, you'll find a mind-blowing app that will give you a taste of what it's like to explore outer space and even do a space walk.        
Hang out with friends in a virtual theatre and watch shows on the big screen with this free app that brings the cinema to you. There's a lot to experience here, from renting blockbuster movies and streaming TV channels, to viewing 3D films in all their three-dimensional glory. It's also a great place to socialize too, with both private and public chat rooms for up to 12 people.   
I Expect You To Die (IEYTD): Home Sweet Home puts you in the role of a spy trying to escape the elaborate traps of the evil Zoraxis organization. The concept is similar to the other IEYTD games in the series except this one is a short passthrough experience - which means it uses the Quest's external tracking cameras to view the physical world in real time. Although it doesn't last long, the way traps and puzzles are integrated into the real-world environment is cleverly done and will leave you wanting more.
As a company dedicated to providing innovative and original content, we pride ourselves in also working with influencers that amplify this dedication. Therefore we are honored to collaborate with Tony from VR Reviews helping us to share the latest virtual reality news on our website, please click the image below to find out more.