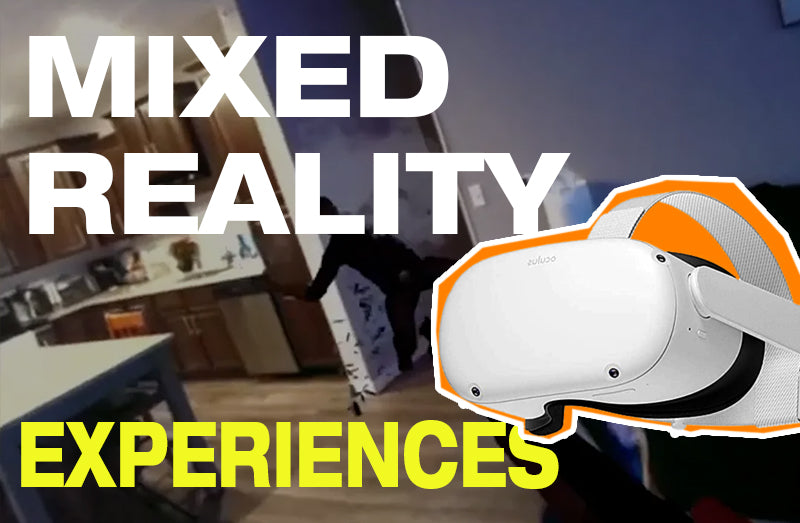 Best Mixed Reality Experiences For Quest 2
| Tony Mowbray
The Quest has a number of interesting innovative features such as hand tracking and mixed reality passthrough. Passthrough uses the Quest's external tracking cameras and allows users to view the physical world in real-time when wearing the headset. Developers have used this feature to create novel apps and games that blend virtual objects with real-world surroundings.
Some games in the official Quest store like Cubism and Demeo include a passthrough mode as an additional feature. However, in this list, we take a look at those games and experiences purpose-built with mixed reality passthrough in mind. Some of these experiences are available on the Official Meta Quest store whilst others can only be downloaded from App Lab or SideQuest.
Price: Free
It's always a good idea to introduce yourself to a new experimental feature like mixed-reality passthrough with a well-made tech demo to show you the ropes. The World Beyond is a short, 5-minute experience that will help you get to grips with the basics of passthrough mixed reality.
Start by virtually mapping your playspace, including walls, windows, and furniture, then use a virtual device to locate a chirpy alien creature called Oppy who is hiding somewhere in the room. Oppy can be fed, petted, and even responds to voice commands. 
Later on in the demo, you also get to transform the walls of your playspace into windows to another world which is a surreal experience that gives you a small sample of mixed reality's potential.
Price: Free
Schell Games are the developers behind the hugely popular VR games I Expect You To Die (IEYTD) and Until You Fall. It's no surprise then that when these same developers create their first passthrough mixed reality experience, they deliver in spades. IEYTD: Home Sweet Home puts you in the role of a spy trying to escape the elaborate traps of the evil Zoraxis organization.
The concept is similar to the other IEYTD games in the series except this one is a short passthrough experience. Although it doesn't last long, the way traps and puzzles are integrated into the real-world environment is cleverly done and will leave you wanting more. 
Price: Free
PianoVision shows us that passthrough is not just restricted to games but can be incredibly useful in learning new skills. It combines hand tracking and passthrough to let you learn the piano in an easy, fun, and flexible way.
Connect your headset to a MIDI keyboard, choose a song, and the app will overlay colored bars on the piano keys that need to be played in the correct sequence to belt out the selected tune. You don't need to be Beethoven to use it either, the app is fairly forgiving and pauses the program whenever you hit a wrong note or stop playing.
Price: Free
Drag and drop walls, traps, and monsters into your playspace to turn it into your very own custom dungeon. Then challenge yourself or a friend to beat your creation by ducking and weaving through the deadly gauntlet of spikes, blades, and undead enemies to reach the objective.
There are currently only a very small number of items, traps, and enemies to choose from so it's far from being a fully fleshed-out game but there's still plenty of fun to be had transforming your living room into a perilous dungeon.
Price: $9.99
Get locked, loaded, and prepare to defend your home from gun totting invaders. FPS Enhanced Reality has the ability to turn your entire house into one big play area, allowing you to move from room to room gunning down enemies in full passthrough.
Setup initially takes about 5-10 minutes (or longer depending on the size of the playspace) but once done, it only takes a minute to recalibrate between sessions. One brilliant feature of this game is that enemy AI can be made to take advantage of the real-world environment and duck behind furniture for cover. 
The Future of Passthrough 
The games and experiences featured on this list are enjoyable but short because passthrough is still in the early experimental phases. The number and quality of these experiences should pick up as developers get to grips with the technology and as hardware improves to allow for better passthrough capabilities.
However, at least for now, these experiences will give you an exciting glimpse of the potential that passthrough mixed reality has to offer. 
As a company dedicated to providing innovative and original content, we pride ourselves in also working with influencers that amplify this dedication. Therefore we are honored to collaborate with Tony from VR Reviews helping us to share the latest virtual reality news on our website, please click the image below to find out more.