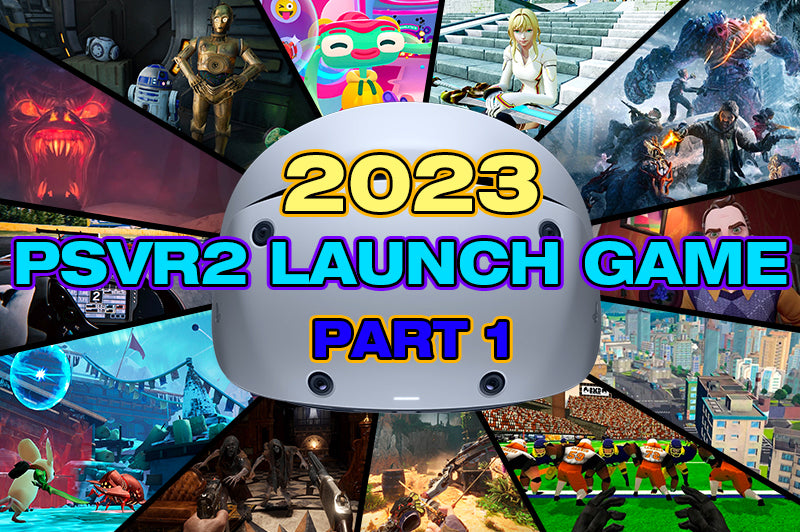 Every PSVR2 Launch Game For 2023: Part 1
| Tony Mowbray
PSVR2 is Sony's latest VR headset coming February 22nd this year, accompanied by around 25 games at launch. The headset will be powered by the PS5 and includes a host of features including headset haptics and adaptive triggers capable of adjusting tension in response to gameplay - among other things.
If you're interested in learning more about PSVR2 then head over to our recent post here. This article is the first part of a two-part series where we take a look at every launch title announced for the upcoming headset. This list is continued in Part 2.
This is PSVR2's showcase title designed to really show what the headset can do. This action role-playing game is set in a world overrun by machines and features a 6-hour plus campaign with stunning visuals that make the most of the PS5's power. It will also make use of the PSVR2 adaptive triggers as well as the haptics in the headset.
A fast-paced horror rail shooter that will take you on a "nightmarish" rollercoaster ride through hell. The game will also make terrifying use of the PSVR2's eye-tracking feature by introducing enemies that only move when you blink.    
Work through a series of puzzles and traps as six kids try to save their friend trapped inside Mr. Peterson's foreboding household. Learn to master each child's unique abilities if you hope to succeed and make it out without getting caught by Mr. Peterson himself.
A classic American football game that initially came out on the Quest is now coming to the PSVR2 with a host of improvements such as the ability to throw the ball from the quarterback position and catch it as wide receiver. It will also include dynamic weather and over 60 stadiums to choose from.  
A co-op shooter like the Left for Dead series of games pits you and up to three buddies against hordes of undead. This edition will support 4K HDR visuals and make use of the PSVR2's headset and controller haptics.  
This Anime slash-'em-up supports co-op sword-fighting action which takes place among the clouds. Combat requires precise timing to parry and block incoming blows before delivering a deadly sword swing of your own.
When it comes to racing sims, it doesn't get more iconic than the Gran Turismo series. Although it is yet to be confirmed, the game appears fully playable in VR - letting you sit in the highly detailed driving seat of your favorite car and race at breakneck speeds. 
Resident Evil Village is already playable on the PS5 but this latest free DLC lets you play the entire campaign in virtual reality. The sounds, visuals, and controls have all been overhauled to take advantage of VR, letting players perform actions like reloading weapons and wielding knives using motion controls. 
Another port from the Quest library, this action-adventure game sees you engaging in high-adrenaline shootouts with space pirates as you complete quests across the planet Batuu. There are also mini-missions that let you play as a Jedi and collectibles to find throughout the galaxy's edge.  
Playing the mouse Quill in this adventure platforming series has to be one of my highlights as a VR gamer. Now we get to play both legendary games from the series back-to-back on the PSVR2 with more features than ever before. Both games will make use of the PSVR2's eye tracking, improved haptics, and 4K resolution. 
Build highways, skyscrapers, shops, and amenities along with necessities like electricity and water to attract citizens and help your city grow. More citizens will arrive as your city expands with ever-increasing and complex demands for you to fulfill.   
This colorful adventure is brought to us by Owlchemy Labs, the same developers behind the classic titles Job Simulator and Vacation Simulator. Take on the role of an alien species called a Prismi who has special abilities that need to be unlocked to restore Cosmonious High School. The game will use a number of PSVR2 features including eye tracking so you can see your avatar's eyes move with your own when looking in a mirror or taking a photo.
That's it for Part 1 - make sure to check out Part 2 which continues this list of PSVR2 launch titles!
As a company dedicated to providing innovative and original content, we pride ourselves in also working with influencers that amplify this dedication. Therefore we are honored to collaborate with Tony from VR Reviews helping us to share the latest virtual reality news on our website, please click the image below to find out more.