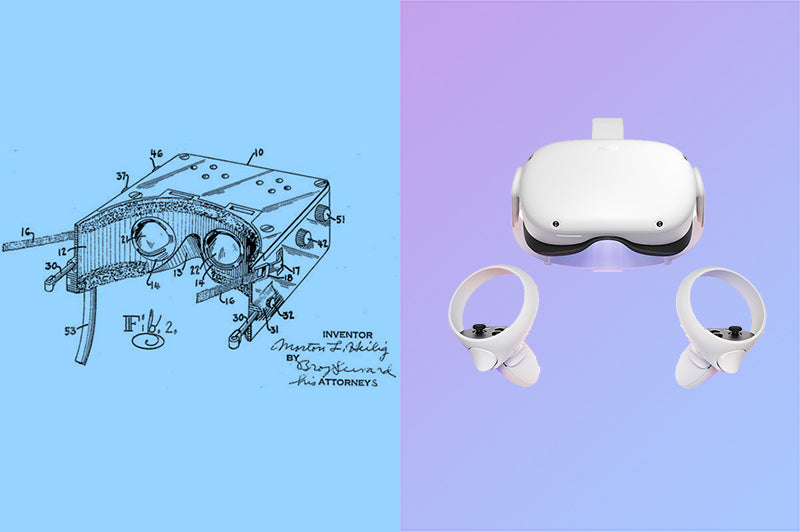 Evolution of the VR headset - part 2
| Tony Mowbray
This is the second part in our two part series looking at the evolution of VR headsets. In part one, we explored the creation and evolution of some of the very first VR Head Mounted Displays (HMDs). In this part, we take a much more modern look at how far VR HMDs have progressed over the last ten years or so since the turn of the century.
Oculus Rift: A commercial success
Whilst VR has a significant history, it has only been in the last ten years or so that we have seen an explosion of interest in VR due to advances in technology. One major catalyst for this renewed interest came in the way of a Kickstarter campaign by American entrepreneur, Palmer Luckey.
Source: Kickstarter 
The campaign promised to deliver "the first truly immersive virtual reality headset for video games" called Oculus Rift. It became one of the most successful Kickstarter campaigns ever, with 9,522 backers raising almost $2.5 million. This marked a significant turning point in the history of the VR headset which, up until now, had largely been met with commercial failure.

The Kickstarter campaign eventually caught the attention of social media giant Facebook (now called Meta) who decided to purchase Oculus in 2014 after seeing potential in the project. The buyout not only made Palmer Luckey exceedingly rich, but now with the multi-billion dollar backing of Facebook, VR was about to really take off.
VR hits the market
The year 2016 marks a very important year in the history of the VR HMD as both the Oculus Rift and its competitor, the HTC Vive, are released. These headsets were unlike anything the consumer market had seen before. They offered technology at an affordable price that was able to deliver a comfortable and impressive VR experience.
Source:

HTC Vive
The Rift was released with a price tag of $599 whilst the Vive could be purchased for the slightly more expensive sum of $799. Both headsets needed to be connected to VR capable PCs to work and they used external sensors, along with sensors in the headset and controllers, to offer 360-degree positional tracking (meaning they tracked the movement of the headset and controllers in physical space) .

Gone were the days of choppy and primitive VR graphics. This new generation of headset offered a 90 Hz refresh rate, meaning that users could experience VR without feeling nauseated by laggy visuals. Personal computers of this decade were also able to produce sophisticated, computer generated visuals, offering users a highly realistic and immersive VR experience.
Competition heats up
With the successful release of the Rift and Vive, more big name companies such as Sony, Samsung, Qualcomm, Xiaomi, and others, began to launch their own VR headsets. There were many developments in this time but one of the more significant ones was inside-out-tracking. This feature incorporated the external tracking sensors into the headset itself, meaning that users no longer had to spend time setting up external sensors around the room to track their movements in VR.

Standalone VR headsets that do not require a connection to a PC also began to be developed. One of the most successful standalone headsets was the Oculus Quest released in 2019 and its successor, the Meta Quest 2, which followed in 2020. The Quest 2 is currently the best selling VR headset available, partly because of its ability to offer a convenient cordless, self-contained gaming experience at an affordable price (starting at $399).
Source:

 Trusted Reviews
The Quest became the first VR headset with hand tracking which allows users to set down their controllers and, with the aid of the headset's cameras, use their physical hands in the virtual world. Whilst hand tracking technology currently has its limitations and is still being perfected, it gives us a glimpse at some of the exciting things in store for VR headset technology.
The future of VR headsets
As more big name companies begin to enter the market (with Apple also rumoured to soon join the fray), VR headset innovations and developments are beginning to rapidly pick-up pace. Some of these innovations will see headsets continue to get smaller and lighter, before eventually slimming down to become not much bigger than an ordinary pair of sunglasses.
Source:

Future
Future headsets might include features like varifocal technology that track your eyes and move the headset lenses dynamically to let you comfortably focus on any object at any distance. Visuals will also become more vivid and realistic, with displays capable of over 8k able to match the retinal resolution of the eye.

As the technology progresses, it is likely that virtual reality and mixed reality become more intertwined, with VR headsets having increased capacity to combine the physical and digital world to create new experiences. But whatever happens next, with the VR industry expected to grow from $6.1 billion in 2020, to an astounding $84.1 billion by the year 2028 (Explorer Research), the future of the VR headset is looking very bright indeed.
As a company dedicated to providing innovative and original content, we pride ourselves in also working with influencers that amplify this dedication. Therefore we are honored to collaborate with Tony from VR Reviews helping us to share the latest virtual reality news on our website, please click image below to find out more.