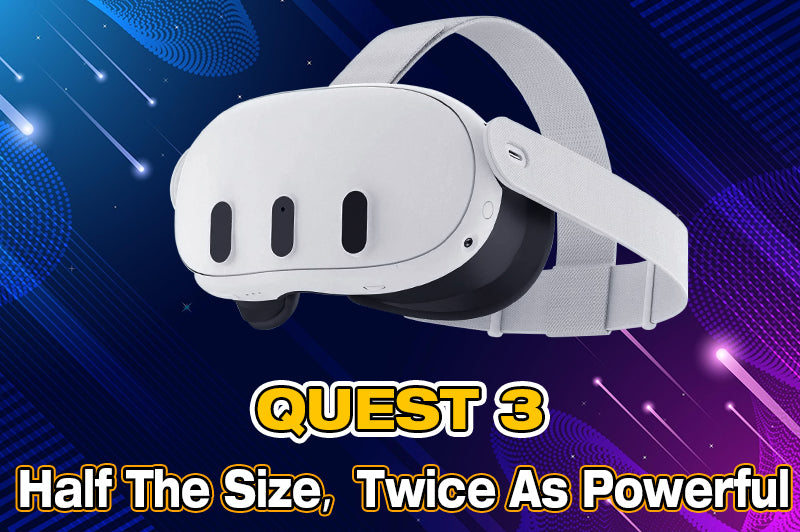 Meta Quest 3 To Be Twice As Powerful And Half The Size
| Tony Mowbray
The world's best-selling VR headset, the Meta Quest 2, is about to receive a successor and according to reports, it will be half the size but twice the power. A recent internal presentation held by Meta has brought new information to light about the possible specifications, price, and release date of the highly anticipate Meta Quest 3. 
According to the report, the Meta Quest 3 is expected to be released sometime later this year "and cost slightly more than the $400 Quest 2″ - which would place it around the $500 range. They go on to say that it "will be two times thinner" than its predecessor but "at least twice as powerful".
Quest 2 measures 191.5 (W) x 102 (H) x 142.5 mm (D; excluding the head strap) so to save you from the math, this would make the Quest 3 around 71 mm thick.  Therefore, you can expect the Meta Quest 3 to have pancake lenses to make this slim design possible. Pancake lenses can be placed much closer to the displays when compared to Fresnel lenses (which the Quest 2 uses) and make the thinner device possible. 
In terms of power, it was already rumored that the Quest 3 would be powered by a second-generation Snapdragon XR2 chip. This hardware would make it around 2.5 times more powerful than the Quest 2, which this latest leak seems to confirm.
Focus On Mixed Reality
The Meta team is said to be making Mixed Reality (MR) a big focus for the upcoming headset. When it comes to MR, Quest 2 uses its internal tracking cameras to provide a low-quality, grainy black-and-white view of the external environment. 
According to Meta's vice president Mark Rabkin, the aim for the Meta Quest 3 is to make the MR experience "...feel better, easier and more natural. You can walk effortlessly through your house knowing you can see perfectly well. You can put anchors and things on your desktop. You can take your coffee. You can stay in there much longer."
Quest 3 will likely have similar MR capabilities as its more premium cousin, the Quest Pro, and feature full-color passthrough using its front-facing cameras. It might also be able to automatically scan your environment like the PS VR2 instead of needing to manually draw walls and object locations like you need to do for Quest 2.
New Apps, Games, And Headsets
The report mentions 41 new apps and games will launch with Quest 3 - with some of them being mixed reality experiences that make the most of the new headset features. However, the Quest 3 is not the only headset Meta plans to launch over the next few years.
According to the report, another headset codenamed Ventura is expected for release in 2024. Few details exist on this upcoming headset but Rabkin claims that it will "...pack the biggest punch we can at the most attractive price point in the VR consumer market". This means the Ventura headset will probably be a budget alternative to the Meta Quest 3.
Another headset with the codename La Jolla is also in development and is expected to be a more advanced version of Ventura with better-looking avatars and visuals, but there is no word on when this will hit the market. 
And last but not least, let's not forget wearables like the new camera glasses that Meta plans to release in 2025. Vice president of Meta's AR department, Alex Himel, has mentioned these upcoming glasses will have a display that is able to show text messages, scan QR codes, and translate text.
As a company dedicated to providing innovative and original content, we pride ourselves in also working with influencers that amplify this dedication. Therefore we are honored to collaborate with Tony from VR Reviews helping us to share the latest virtual reality news on our website, please click the image below to find out more.